About:
Chinese Cooking for Diamond Thieves by Dave Lowry is a novel about a fish out of water, but you're never really sure who the fish is. Mr. Lowery has written several books, but this is his first novel.
288 pages
Publisher: Mariner Books
Language: English
ISBN-10: 0547973314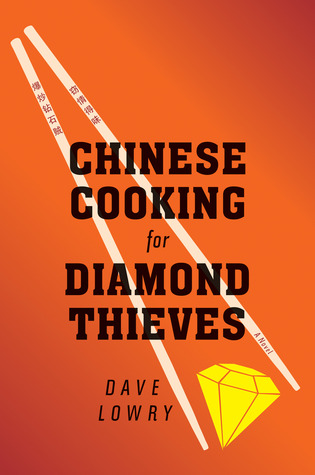 My rat­ing for Chinese Cooking for Diamond Thieves — 4
Buy this book in paper or elec­tronic (Kin­dle) format*
Thoughts:
Chinese Cooking for Diamond Thieves by Dave Lowery is a witty, funny, fast paced novel. The protagonist, Tucker, a White guy who is a Chinese chef and speaks Mandarin, is clever, sarcastic and snappy with marvelous comedic timing.
There are several descriptions of mouth watering authentic Chinese food and some "behind the scenes" looks at the inner workings of a Chinese restaurant. Personally, I never understood the Americanized version of Chinese cuisine, especially since the original is not only healthier, but more delicious in my opinion.
I really enjoyed the characters in this novel; they are off beat, play well against one another and are fun to read about. The adventure our characters go through is not too shabby, but when you insert Tucker and his friends into it, suddenly the plot becomes more interesting than it might have been otherwise.
At the beginning of each chapter we are introduced to "Tucker Rules" which are a great way to introduce the characters and develop the relationships and plots. The "rules" are funny and witty ("#10: Keep focused on the broad perspective and don't get distracted by minor stuff-like graduating from college") and help pace the book and introduce the section's plot.
I was really fascinated by the marital art the protagonist practiced, a Chinese form known as xing-I. The action scenes were well written and the protagonist's observations on fighting were well grounded, reasoned and most interesting.
This novel was a delightful summer read, quick, funny and easy to ingest. The storytelling and dialog are sharp and funny, and the characters are engaging and natural.
Synopsis:
Tucker quit/got kicked out of college and is heading home to Missouri to live his dream as a chef in a Chinese restaurant. On his way he meets the mysterious Corrine Chang, who does not know that this "white guy" can speak Mandarin.
Tucker offers Corrine a ride, but then realizes that his instincts were correct and Corrine is in some kind of trouble. It seems that a Chinese gang thinks Corrine stole diamonds which belong to them and now they are after her, only that Corrine has no idea where the diamonds are.
Or does she?
Buy this book in paper or elec­tronic (Kin­dle) format*
Zohar — Man of la Book
Dis­claimer: I got this book for free.
*Ama­zon links point to an affil­i­ate account
--- Please like and follow ManOfLaBook.com ---