Disclaimer: I got this eBook for free from http://www.downloadthedarkness.com//
The Painted Darkness is a short novella about Henry, a person with an overactive imagination. The story alternates between present day, where Henry – now a man and an accomplished artist and his five year old self.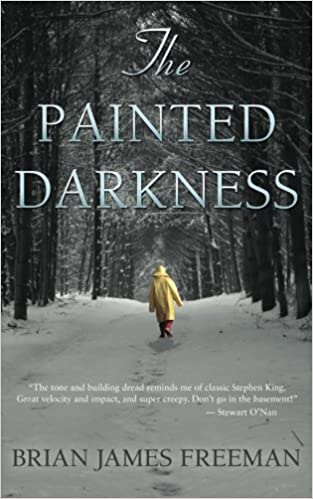 When Henry was five he experienced and witnessed a terrifying event which he could only express through art
which deals with his trauma. Overtime Henry's mind blocked out the bad memories but continues to be haunted by his own private demons.
The story takes place mostly over a day in the life of the young and the adult Henry.
As we all know, whether or own demons are real or not does not matter, they are real to us and to Henry as well. Twenty years later Henry is confronted by his demons in an old farm house with a strange and brooding basement.
The story is a very imaginative piece and the marketing is brilliant. Since this isn't the type of genre I usually read I never would have been introduced to the author Brian James Freeman unless I would have been given this book for free.
The free eBook also features:
* An exclusive new interview with Ray Bradbury: "We Have Too Many Inventions!"
* Comments from bestselling authors such as Stephen King, Ray Bradbury, William Peter Blatty, Jodi Picoult, Carolyn Parkhurst, Anne Perry, Jane Green, M.J. Rose, Douglas Clegg, J.A. Konrath, Seth Godin, Michael Marshall Smith, Scott Adams, and many others about eBooks and the future of publishing.
* Author's Afterword: "Did I Really Commit 'Career Suicide' by Giving The Painted Darkness Away for Free?"
* Norman Prentiss interviews Brian James Freeman
* $5.00 discount coupon valid on an order for the trade hardcover edition of The Painted Darkness for a limited time only
My rating for The Painted Darkness: 4

Please leave a comment with your thoughts about The Painted Darkness , or just to say hello.
Zohar – Man of La Book
--- Please like and follow ManOfLaBook.com ---
Summary
Reviewer
Review Date
Reviewed Item
The Painted Darkness by Brian James Freeman
Author Rating





Product Name
The Painted Darkness by Brian James Freeman