Disclaimer: I got this book as an Advanced Reader Copy (ARC) for free
An Inconvenient Elephant by Judy Reene Singer a fictional story is about Neelie Sterling, an American who has spent a year in Africa taking care of baby elephants and, due to the volatile political climate in Africa, is forced to come back home. Only that "home" is filled with past skeletons of ex-husband, ex-house, ex-horse, etc. On her way she meets Diamond-Rose, who is not a stripper as her name might suggest, but a 20 year veteran safari tour guide who is also being forcefully evacuated. Along the way, the ladies get enamored by an elephant targeted for execution and, once back in the US, make it their mission to save him.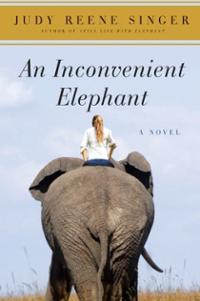 As many of us who have been absent from home for a long amount of time know, returning is a struggle. The mundane becomes the norm, the adventure subsides and you almost have to re-learn how to cope with life. Neelie and Diamond-Rose find work in an animal sanctuary and immediately start working on their new mission of saving another elephant as well as other animals. Their mission is made all that difficult by their lack of social graces and Neelie's pigheadedness.
This is a charming book; a quick read with likable characters even thought the plot is quite predictable and somewhat unbelievable. The narrative is entertaining, enjoyable and easy to follow The author, who seems to be very knowledgeable about animals (even though one gets the impression she is more of a horse lover) doesn't try to ram any wildlife agenda down the reader's throat or force a tearjerker – she just let's the story roll along. Peppered with quirky, silly, purposefully lame and yes, funny jokes the book is never boring.
This book is suppose to be a sequel to "Still Life with Elephant" which I haven't read, and I haven't noticed I was reading a sequel – so you can still read "An Inconvenient Elephant" independently of the first book.

My rating for An Inconvenient Elephant: 4

Please leave a comment with your thoughts about An Inconvenient Elephant:, or just to say hello.
Zohar – Man of La Book
--- Please like and follow ManOfLaBook.com ---
Summary
Reviewer
Review Date
Reviewed Item
An Inconvenient Elephant: A Novel by Judy Reene Singer
Author Rating





Product Name
An Inconvenient Elephant: A Novel by Judy Reene Singer