About:
The Locksmith by Lafe Metz is the memoir of Kurt Kann, a German born American solider during World War II. The story is told through the eyes of Mr. Kann.
The author is giv­ing away one eCopy of this book— enter at the end of the post.
191 pages
Publisher: LoudCloud Publishing
ASIN: B005208X9I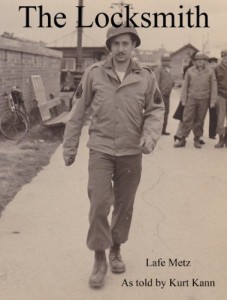 My rating for The Locksmith – 4
Great price on this book in paper or elec­tronic for­mat
through the Man of la Book Affil­i­ate Account
Check out this & more World War II books on Man of la Book­Store
Thoughts:
The Locksmith by Lafe Metz is the engrossing story of Kurt Kann, the kind of stories you only see in the movies and tell yourself "if it could only be true". The story is moving, funny and tells of lost innocent and growing up in an ugly world.
There are many highlights in this book, the firsthand account of the Allied invasion at Omaha Beach, the liberation of concentration camps and the grown up Sergeant Kann's reunion with his family and confrontation with the man who brought much misery the his loved ones.
Mr. Kann is a human being, which comes across very clearly in the narrative. He has dreams, nightmares and fears. He is not Captain America punching Hitler, but a man who truly believes he is fighting evil incarnate. Along the way Mr. Kann tells about his family and even about the motherly Jewish guilt trip he gets after telling his parents he joined the US Army after Pearl Harbor:
"Go to your silly war. What should I care, I'm only your mother. My heart breaks, he doesn't care. A mother's love, thrown away, like an apple with a worm. Who knew I would be killed by my own flesh and blood in such a way as this! Dead of a broken heart. My first born child, he comes to the funeral only to spit on my grave".
The contrast between Nazi Germany and America is also very poignant in the book. Kurt's family had to bribe their way out of German (you'd think they'd be happy to let them go) and when they got to America, even though penniless, they appreciated what they had.
Mr. Kann does not ask for forgiveness or understanding (personally I don't think he has done anything wrong) but simply tells his story, sharing it with the world. I personally found Mr. Kann's story awe inspiring, reflective and almost unbelievable.
The book is peppered with GI slang and phrases in French and German which I liked, the writing is engrossing and very good for a first time author. While I felt that the book lacked some insight, I certainly was not disappointed in this fantastic story.
The author admits in the book that this memoir is based on a true story. While Mr. Kann's memory is sharp there were some discrepancies in the interviews with Mr. Kann or some dialogue is fictionalize, the point still stands. Reading the memoir was like sitting with Mr. Kann over a beer while he tells his tales.
Books in a similar vein:
Cit­i­zen Sol­diers by Stephen Ambrose
Gated Grief by Leila Levin­son 
Siber­ian Prison by E.V. Enz­mann
So tell me, do you consider memoirs based on a true story as fiction or non-fiction?
Synopsis:
Kurt Kann rides a motorcycle across German to protect his Jewish family during Kristallnacht. However, Kurt arrives too late finding his father gone, his mother brutalized and his brother traumatized.
Kurt doesn't forgive or forget and as a sergeant in the 203rd Engineer Combat Battalion he leads his squad onto Omaha Beach. Leading his men across the continent Kurt's ultimate goal is to find the man who betrayed his family that one fateful night.
Great price on this book in paper or elec­tronic for­mat
through the Man of la Book Affil­i­ate Account
Check out this & more World War II books on Man of la Book­Store
Give­away
Give­away ends: January 10, 2012

This is an international contest

Win­ners will have 24 hours to write back with their address, oth­er­wise an alter­nate win­ner will be picked
Congratulations: relkatz@
Zohar – Man of la Book
Disclaimer: I got this book for free.
Article first published as Book Review: The Locksmith by Kurt Kann, as told to Lafe Metz on Blogcritics.
Related articles
BOOK BLOGGERS – Have you read The Locksmith? If so link up your review below:
--- Please like and follow ManOfLaBook.com ---