The novel "Damned" was written in 2011 and it was published by "Jonathan Cape" on September, 1 2011 and on October, 18 by "Doubleday". Palahniuk said that the novel was written as a way to get through his mother's death from breast cancer in 2009.
This work was based on the structure of the novel "Are You There God? It's Me, Margaret" by American writer Judy Blume. The main character of it is a little girl too.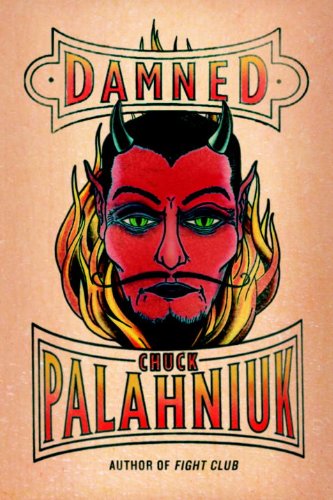 Buy this book in paper or elec­tronic format*
The whole novel is written in first person narration. The main character and the narrator is 13-year-old Madison Spenser. Every person can envy her life, her mother is a Hollywood star and father is a film producer. But as it turns out during the narration of dead Madison, who tells her story from Hell, she was very much unhappy and unappreciated child when she was alive. After finding herself in Kingdom come the girl begins to learn its inhabitants and the system of Hell with all its redtape and prohibitions. Not losing in a plenty of new information Madison, who is clever beyond her years, makes friends in Hell, handles Serbian demon and find job in the telemarketing sphere there. And then after getting used properly in Hell the protagonist learns the real reason of her death, gain a great prestige among sinners and understands at least that damned people stay in Hell till they are able to forgive themselves.
"Damned" is written in original manner, which is so much characteristic of Palahniuk. In it irony and bloody scenes are accompanied by philosophical conclusions on eternal topics about live and death. The book's volume and narrative language help to read this novel faster even in spite of the abundance of not very pleasant scenes for impressionable readers.
As always Chuck Palahniuk doesn't stint colored, sometimes even sickening descriptions. But Hell with all its awful rivers, lakes and depressions is very much alike with our planet, even in such grotesque implementation. Besides it, the writer shares with us his knowledge in cross-cultural anthropological theology. All this is presented in entertaining manner and it will be surely liked by those people who are interested in mythology and philosophy.
By this book the author shows that his writers range isn't exhausted by "Fight Club" and "Haunted". The writer's ideas are fresh and new and some things make us to think seriously about every passing day and that Paradise and Hell are subjective concepts.
The author himself characterized his novel the following way: "if "The Shawshank Redemption" had a baby by "The Lovely Bones" and it was raised by Judy Blume, and it's kind of like "The Breakfast Club" set in Hell". After publishing the novel
"Damned" was met by many positive reviews.
In whole "Damned" can be recommended to read to all fans of Palahniuk's creative works, who must appreciate this book. Meanwhile, it is possible to say that many readers who don't know any Palahniuk's books can like a lot this interesting novel "Damned" too.
About the author: Sarah Hall is a noted blogger. She has an interesting hobby as hand-making. Ask Sarah's other hobbies on: Google+|www.classyessaywriter.com.
Buy this book in paper or elec­tronic format*
*Ama­zon links point to an affil­i­ate account
--- Please like and follow ManOfLaBook.com ---