Maxim Gorky (28 March, 1868 – 18 June, 1936) was an important Russian writer and political activist.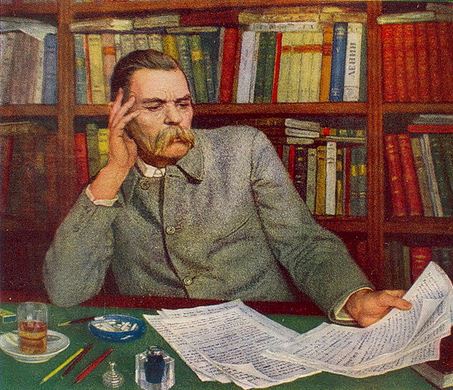 Yes, Gorky Park is named after him.
The author's birth name is Aleksey Maksimovich Peshkov.
The author was born into poverty – Gorky means "bitter".
Gorky's first book, Essays and Stories (1898) was a big success.
Gorky was the first president of the Union of Soviet Writers.
Gorky was considered unique literary voice from the bottom strata of society.
On 11 October 1931 Gorky read his fairy tale "A Girl and Death" to his visitors which included Joseph Stalin, an event that was later depicted by Viktor Govorov in his painting below.

Gorky spend 7 years (1921-1928) in Sorrento, Italy writing several books. He was invited personally by Stalin to return and was decorated with the Order of Lenin upon his arrival. Gorky also got a mansion which is now the Gorky Museum.
Gorky wrote all the time viewing his works as political acts which could change the world.
Gorky openly criticized Lenin, which might have been the cause of his death while under "medical treatment".
Zohar – Man of la Book
--- Please like and follow ManOfLaBook.com ---