The pub­lisher is giv­ing away one copy of this book –to enter fill out the Raf­fle­copt­ter form at the end of the post.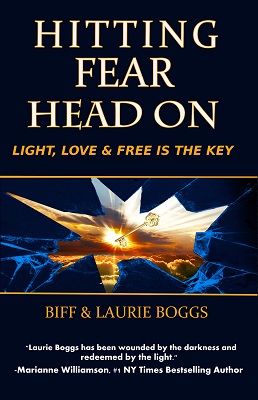 "Please don't cut off my legs," I scream, as the Jaws of Life chew through the wreckage.

The loud blast reverberates around me. Overcome with anxiety, I feel vulnerable. It takes the fire department 45 minutes to remove the car's roof and cut me out of the wreckage. My legs look like they went through a meat grinder. The pain is so piercing it causes me to pass out on the way to Riverton Hospital. The Emergency Room doctors rush me into surgery to save my life by removing my spleen. I am abruptly awakened by gut-wrenching pressure, 'Oh my God, I am awake! I CAN FEEL EVERY SLICE OF THE KNIFE!'

The operation brings my suffering to the edge. I try to scream out in an agony of pain, but no one can hear me since I have a tube down my throat. I move my hand to let the surgical team know I am conscious. However, the staff misreads my movement as muscles spasms, and continues to carve into me, shredding the inside of my abdomen as though gutting an animal. The pain is unbearable, and I wish I were dead.

Thinking I am still under, they discuss the horrific event. I listen, hoping to hear "she needs more pain medicine."  Instead, I hear the words I will never forget.

"Poor lady, also lost her son…"

'PRESTON?  Oh God! NO!'

 As my body lies broken and my soul shattered with anguish, I am brought to a whole new level of pain. 'God, help me!  I cannot take any more!'  Instantly, I am pulled from my body into a miraculous sea of royal blue; bathed in peace, flying like a butterfly through swirling shades of pink and vibrant violet intertwined like spilled paint in the sky. More stunning than a sunset, I bask in the magnificent presence of pure delight. It feels like being inside a kaleidoscope, turning, and immersed in a tunnel of pure unconditional love. Guided by the light and absence of all fear, strangely I am unconcerned about what just happened. No map needed, as I glide into the arms of Heaven.

These following two can be used for grief healing:

It's another cold gray day. Life without Preston continues to be exceptionally hard. I feel dead inside, swallowed up with the dark hole of my grief. Thoughts of suicide continue to roll through my mind, anything to escape further pain and suffering. Everyone else is busy with his or her own life and family; I feel very alone. I have been broken down to the depth of my soul; my heart feels like it has exploded into tiny pieces. I live each day in a state of hopelessness, trying to visualize myself picking up a piece of my heart, hoping it might convince me to stay alive; but the biggest piece of my heart, my child, is gone. I wonder if God endured the same pain losing Jesus; our common losses bond us. My soul begins to hear echoes of God's voice, telling me the way to my son is through Him. I will do whatever it takes to be with Preston again. This means I have to heal my soul. I hear God's voice tell me the only way to survive is through stillness. It becomes my new healing place, which carries me on each day, when I do not think I can make it anymore. It becomes my healing place, as I pray for strength, love and understanding. I ask God for more gifts of connection with Preston.
Give­away
Give­away ends: May 19, 2014

US Ship­ping Addresses Only

No PO Boxes

Win­ners will have 24 hours to write back with their address, oth­er­wise an alter­nate win­ner will be picked
--- Please like and follow ManOfLaBook.com ---