Article first published as Book Review: The Woman in White by Wilkie Collins on Blogcritics
About:
"The Woman in White" by Wilkie Collins was published as a newspaper serial in 1859. In 1860 a collected edition of the chapters was published in book form. The fictional story is considered to be one of the first mystery novels, as well as one of the finest.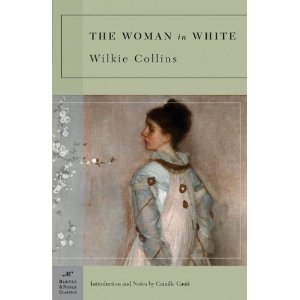 My rating for The Woman in White – 4
How fine you ask? Buy "The Woman in White" and find out*
More books by Wilkie Collins*
Thoughts:
Even though this is a Victorian novel, it is still gripping, engaging and a page turner. The characters created by Collins are three dimensional, vivid, intelligent, thought provoking and sometimes hilarious even by today's standards. The story is not told in a straight narrative form, but rather in a series of letters, first hand accounts, diaries and dispositions by the main characters, as well as some supporting characters.
Since this novel was first serialized, every chapter ends with a twist to keep the readers coming back, that is not to say that there aren't many twists in the chapters themselves. As a detective novel, the narrative is faithful to the art of investigation. Walter Hartright, the one who is doing the investigation, doesn't only talk to witnesses, but also minor characters who can give him background on those he is investigating.
However, "The Woman in White" is not a only a mystery but also a Gothic romance where a man and woman give up almost everything to be together. The author moves the story precisely, gracefully and with wonderful prose and a narrative style which reminded me of Charles Dickens. The plot is complex, twisted engaging yet realistic and easy to digest.
One of the most wonderful things about this book is the fantastic supporting cast. Count Fosco, the main villain, is a Victorian Tony Soprano, with the same charm, body type and villainous and cunning initiatives. Frederick Fairlie, an effeminate hypochondriac, had me laughing out loud, as well as the first several appearances of the Italian Professor Pesca.
Synopsis:
Walter Hartright, a drawing teacher, is hired to teach the beautiful Laura Fairlie and her half-sister Marian Halcombe. Laura is a weak creature, heir to the family fortune while Marian is a strong minded individual. Soon Walter and Laura fall in love, however Laura has already promised Sir Percival her hand in marriage. Soon it becomes clear that Sir Percival has money problems and has his eye on Laura's money. Not a man of honor, Sir Percival and his friend, Count Fosco, plan to get their hands on the treasure pot.
When Walter and Marian realize that Laura's life is in danger, the two uncover the dastardly scheme in an attempt to rescue the young bride. Throughout the book, a mysterious lady in white wanders in and out of the story, lonely, dejected and desperate to meet with Laura.
A book which was never out of print must be good
Buy it here before… it goes into print again*
Zohar — Man of la Book
Dis­claimer: I got this book for free from TLC Book Tours
*Ama­zon links point to an affil­i­ate account, the money is usually spent on books
Related articles
--- Please like and follow ManOfLaBook.com ---
Summary
Reviewer
Review Date
Reviewed Item
The Woman in White by Wilkie Collins
Author Rating





Product Name
The Woman in White by Wilkie Collins