About:
"The Jefferson Key" by Steve Berry (website) is the seventh book in the fictional series featuring Cotton Malone. The story takes place in the United States, which I understand is a departure from previous books in the series.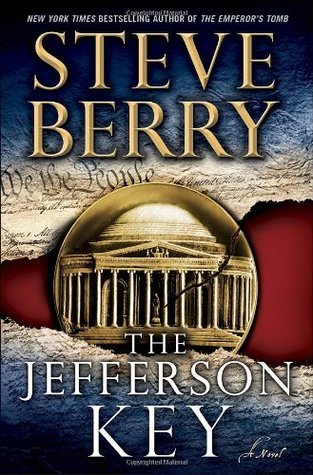 My rating for The Jefferson Key – 4
Buy The Jefferson Key from Amazon.com*
More Books by Steve Berry*
Thoughts:
Even though this is the seventh in the series, "The Jefferson Key" by Steve Berry was my first introduction to Cotton Malone, however, I have heard of the character. I'm sure I would have enjoyed the book more if I would have read the first six, however, this is a good book as a standalone as well.
The plot moves in a very fast pace without any wasted words, the locations are in the United States (which I understand is a departure for the series) and the story is clever and full of action. The plot is multi-facet involving several security agencies and interplay between several strong characters.
Even though this is a fictional book, there are many fascinating tidbits of information mixed in the fictional narrative. Mr. Berry did an extraordinary amount of research and takes great care in separating fact from fiction at the end of the book. I don't know how the other books measure up (but I intend to find up) but I found the plot very complex but also very intriguing.
Mr. Berry manages to tie the assassination of the four presidents who died by the gun (Kennedy, Lincoln, Garfield, and McKinley) as well as the attempted assassination of Andrew Jackson to the "Commonwealth". This group of pirates/privateers were guaranteed immunity in perpetuity from Congress and are resentful when the sitting president tries to renege on that promise.
Besides hashing out some history, Mr. Berry also does a fantastic job writing about pirates and how they lived and operated in days of yore. Separating fact from fiction while telling a good story is certainly an art I appreciate more and more.
I especially loved to read about locations which I have been to (such as Washington DC, Monticello and more). Even though I know Mr. Berry didn't have good ol' me in mind when writing the book, I still felt excited when reading about those locations.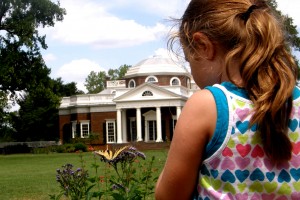 Daughter of la Book watching a butterfly while visiting Monticello
So tell me, do you like books which mix fact and fiction?
Synopsis:
Cotton Malone gets an email from his boss to show up in NYC at a certain time in a certain hotel room. What Malone doesn't know is that he is being setup to take the fall in a bold assassination attempt against sitting US president Danny Daniels.
Malone and his girlfriend, Cassiopeia Vitt, find themselves crisscrossing the nation trying to out maneuver the Commonwealth, a group of rich pirates. Trying to solve a mystery concocted by president Andrew Jackson utilizing Thomas Jefferson's encryption algorithm.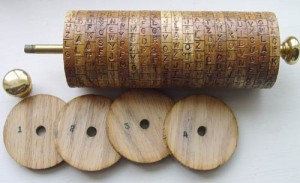 Thomas Jefferson's cypher wheel disassembled.
Picture from Thomas Jefferson's Wheel Cipher
Buy The Jefferson Key from Amazon.com*
More Books by Steve Berry*
Zohar – Man of la Book
Disclaimer: I got this book for free.
*Ama­zon links point to an affil­i­ate account, the money is usually spent on books
Related articles
BOOK BLOGGERS – Have you read "The Jefferson Key"? If so link up your review below:
--- Please like and follow ManOfLaBook.com ---
Summary
Reviewer
Review Date
Reviewed Item
The Jefferson Key by Steve Berry
Author Rating





Product Name
The Jefferson Key by Steve Berry