About:
Andrew Jackson: His Life and Times by H.W. Brands is a biography of the 7th President of the United States. Currently Professor Brands (@hwbrands) is tweeting the history of American in haiku, very original, entertaining, educational and highly recommended.
I read this book as part of a goal to read, in order, all of the biogra­phies of the pres­i­dents of the United States who have passed away.
656 pages
Publisher: Anchor
Language: English
ISBN-10: 1400030722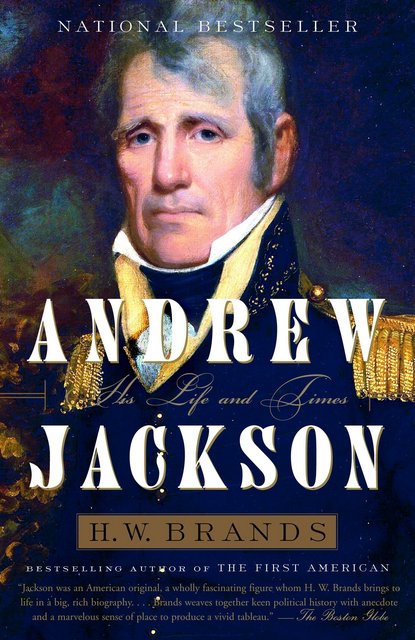 My rat­ing for Andrew Jackson: His Life and Times — 5
Thoughts:
Andrew Jackson: His Life and Times by H.W. Brands manages to convey just how complex Andrew Jackson was as a person, husband, general and president.  The book brings to life its subject by combining history and literary methods to make an interesting and fascinating profile.
Even though many people have forgotten about President Jackson (even though he is much better known than other presidents) he had led a full and exciting life. Mr. Brands starts, where else, in the beginning being born into poverty, fighting the British in the Carolinas, becoming a lawyer, Congressman (R-TN), a militia general and ultimately President of these United States.
Mr. Brands does not skip over the uncomfortable past of this complicated man. Jackson fought the Native Americans savagely as he did the English in New Orleans during the War of 1812. However, Jackson's foremost battles where in the courtroom or as Chief Executive and Mr. Brands does an excellent job explaining political concepts and intrigue in the context of the times. After all, Old Hickory was the first president who was not born an aristocrat nor was he a rich man as were the six previous men.
Even though this biography is quite hefty, Brands combines action, intrigue and an all-American rags to riches story. The book packs a massive amount of research, written in an easy to digest and fluid format
Synopsis:
Andrew Jackson was born in northern South Carolina and at the age of 13 was already a member of the Revolutionary Army and a prisoner of the British. After securing his release, his mother left him an orphan at the age of 14, but Jackson thrived and became a lawyer through apprenticeships. By 1788 Jackson became the solicitor for Nashville, a frontier town.
Jackson was a brawler, gambler and kept dueling with pistols well into middle age, he also traded slave, speculated on land and horses as well as being a merchant. Thriving in his new state of Tennessee, Jackson was soon elected head of the militia with the rank of major general. Despite having a little military experience, Jackson proved to be a capable commander and a ruthless yet resourceful Indian fighter. After smashing British defenses at the Battle of New Orleans, Jackson became a great American military hero, rivaled only by Washington which led him to the presidency in 1828.
Buy this book in paper or in elec­tronic format*
Zohar — Man of la Book
Dis­claimer: I bought this book.
*Ama­zon links point to an affil­i­ate account
BOOK BLOGGERS – Have you read Andrew Jackson: His Life and Times? If so link up your review below:
--- Please like and follow ManOfLaBook.com ---