About:
Disney U: How Disney University Develops the World's Most Engaged, Loyal, and Customer-Centric Employees by Doug Lipp is a business book with a Disney twist. Many of the lessons in this book are timeless and thought provoking.
240 pages
Publisher: McGraw-Hill Education
ASIN: B00BDE68E4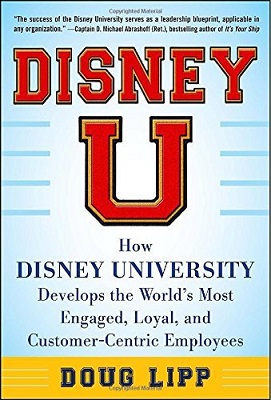 My rating for Disney U – 4
Buy this book in Paper or elec­tronic for­mat*

Thoughts:
like many people, I also love the Disney movies and Disney parks, a running joke in my family is that one of the main reasons I had kids was that I'll have someone to go with me to cartoons. The stories are good, but the detail and artwork are what I find the most fascinating.
On the several occasions I've been to Disney World (and once to Disneyland), I could not get enough of the beauty of the parks, how everything was thought out, the cleanliness, and of course, the friendliness of each and every employee. When I saw Disney U: How Disney University Develops the World's Most Engaged, Loyal, and Customer-Centric Employees by Doug Lipp, a business book (on sale) which will shed some light on the mysterious art known as the "Disney Magic", I immediately bought it.
The author was a member of the team at Disney University for several year and his mentor was Van France, the found of Disney University. This book is largely a tribute to Mr. France as it is a book about the business of employee training.
While the introduction and lessons from the Disney culture are interesting and fascinating, they certainly do not translate to many, if any, businesses out there. The core values of innovation, organization support, education and entertainment, however, are common to most. Disney, like any other behemoth, has human resources issues and employees who, occasionally, have a bad day even in the "happiest place on earth". To me, those issues as well as overcoming significant problems (failure of the Disney Store, employee turner over of 83% as well as cultural issues) were the most interesting.
At the end of each chapter Mr. Lipp has a short summary and some questions for the engaged reader to answer about their own organizations. The book, I believe is a decent introduction to the business practices of Disney (and some hero worship as well), the big impact of Disney U is that their innovations are now part of best business practices but it's still difficult to make it work.
I don't know if it's just me getting older, or having higher expectations, but on our last visit to Disney I've had some issues, a few had to do with the staff. Younger Disney park employees seem to err on the side of American bureaucracy and extremism which has taken the country by storm (think of elementary schools' zero-tolerance policies) , instead of good old common sense and friendliness which used to be a Disney trademark.
Examples:
o Cast member loudly berating a lady because her stroller wheel was an inch or two outside the sidewalk tape during a parade and that she "must be over the line".
o Cast member telling 2 kids during Mickey's Not So Scary Halloween Party to walk around the whole roped pathway to get candy, instead of ducking under the ropes even though the line was empty and they would get soaking wet due to the rain.
Zohar — Man of la Book
Dis­claimer: I bought this book.
*Ama­zon links point to an affil­i­ate account
--- Please like and follow ManOfLaBook.com ---