About:
All Systems Red (The Murderbot Diaries #1) by Martha Wells is a science-fiction novel following a weaponized security cyborg which has become self-aware. Ms. Wells is an award winning writer, whose works include many fantasy, science-fiction, and non-fiction books.
176 pages
Publisher: Tor.com
Language: English
ISBN-10: 1250214718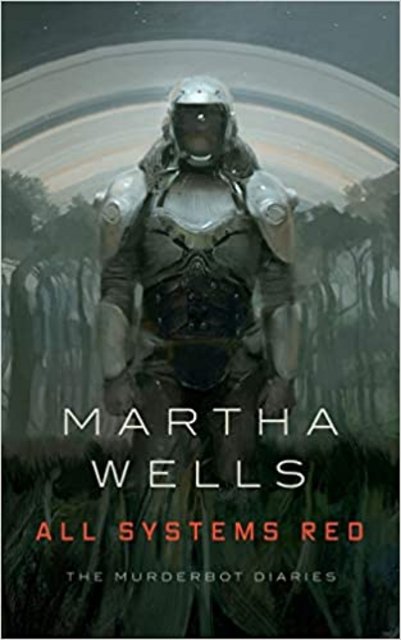 My rat­ing for All Systems Red — 5
Buy All Systems Red from Amazon.com*
More Books by Martha Wells*
Thoughts:
I didn't know what to expect from All Systems Red (Book 1 of 4 in the Murderbot Diaries Series) by Martha Wells, the story sounded intriguing, and Tor.com was giving away the books for free. I know that these type of stories can be hit or miss, but I'm starting to read more science-fiction and fantasy books lately. It's always good to expend one's horizons anyway.
The story of a cyborg becoming self-aware was very interesting. Ms. Wells smartly revolved the narrative around this aspect of the story, while keeping the action in the background for most of the story. This SecUnit has a sense of humor, constantly comparing real humans with the humans on his favorite TV show, and is constantly bothered by having to help.
Even though this book is short, the world building is fantastic. The vision of a future that is run by corporations, with little if any input from governments, is eerie and scary. People are replaceable, profit is a motive and safety is so far down the list we don't know where to find it. The SecUnit, our protagonist, knows this while protecting the people.
I really enjoyed how the author sets up the way people and robots communicate via feeds. The SecUnit can communicated with other bots and humans via feeds, and of course talking to humans. Talking to people though, the SecUnit hasn't completely mastered and is still trying to figure it out without its "governor module", and gain confidence.
This was an enjoyable, quick read of a frolicking science-fiction adventure. Frankly, I enjoyed this book much more than I thought I would and am looking forward to read the other books in the series.
Synopsis:
A droid in the SecUnit (Security Unit) class has managed to hack its governor module and become self-aware. The droid, which has cloned biological parts, does not like or understand humans, and mostly wants to be left alone to watch his favorite shows.
The SecUnit, which calls himself Murderbot (but never aloud), is on a distant planet, protecting a team of scientists testing the surface. A mission on the same planet suddenly drops contact and the scientists and the SecUnit feel compelled to investigate. In their reality, however, dominated by corporations safety isn't a primary concern.
Buy All Systems Red from Amazon.com*
More Books by Martha Wells*
Zohar — Man of la Book
Dis­claimer: I got this book from the Tor.com eBook Club.
*Ama­zon links point to an affiliate account
--- Please like and follow ManOfLaBook.com ---