About:
Beaming Up and Getting Off: Life Before and Beyond Star Trek by Walter Koenig is a memoir by the celebrated actor and author. Mr. Koenig is mostly remembered for play Ensign Pavel Chekov in the original Star Trek TV series and as as Alfred Bester, a senior officer of Psi-Corps in Babylon 5.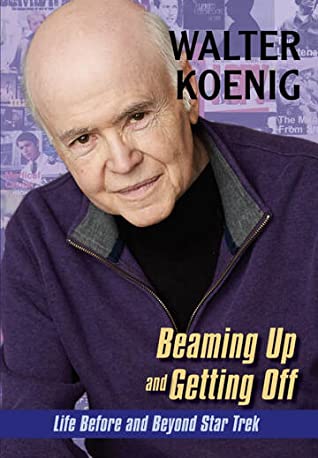 My rat­ing for Beaming Up and Getting Off— 5
Buy Beaming Up and Getting Off from Amazon.com*
More Books by Walter Koenig*
Thoughts:
I thought it would be interesting to read Walter Koenig's biography because he's career trajectory wasn't as meteoric as other actors we all heard about. He is a success in his chosen profession, but has struggled even after finding success, yet remained a working actor.
The fact that most of us cannot imagine Mr. Koenig talking with a Russian accent just shows of his talent to take even a minor character, with barley any lines, and make him his own.
The author tells about his upbringing in New York, his childhood and the difficulties which plagued him through college. He does not dwell much, and only brings forth anecdotes which he felt have left an impression on the rest of his life.
For Star Trek fans there will be very little new in the Beaming Up and Getting Off: Life Before and Beyond Star Trek, Mr. Koenig goes through pains to say that many of the Trekkie anecdotes have been told before in books an conventions, yet I found them charming and informative. The author discusses the project he is proud of, including those that were abandoned. It really goes to show that a tough industry the entertainment business is when so many people (agents, executives, producers, distributors, and of course Lady Luck) have a say in your product. This is especially brutal when a promise is not a promise until the project has taken off.
The book is filled with wonderful, self-deprecating humor (as is expected from any person of Jewish origin), wit and charm.  The author writes about his errors in judgement, the regrets he has for the few times (that he wrote about) acting like a "star", he writes about the business he loves with a wink, but sadness of someone who has been through the wringer.
While this book is Star Trek heavy, it is not Star Trek centric. There are other books which relish with tales of behind the scenes anecdotes, and while Mr. Koenig does deliver, he does not immerse the reader in material that could be found elsewhere – and every anecdote does have a purpose in the overall narrative.
This book should be the standard of how memories should be written, fascinating, informative, witty, self-deprecating, but also sensitive, candid and, most importantly, reflective on the self. I felt that this memoir represents the experience of the majority of actors, a huge resume of supporting roles, combined with a life of uncertainty.  Mr. Koenig has written a book worthy of attention, a fascinating and entertaining read.
Buy Beaming Up and Getting Off from Amazon.com*
More Books by Walter Koenig*
Zohar — Man of la Book
Dis­claimer: I got this book for free.
*Ama­zon links point to an affiliate account
--- Please like and follow ManOfLaBook.com ---