About:
"A Death in Vienna" by Daniel Silva (website) is the fourth book in the fictional Gabriel Allon series. The book touches on revenge and justice themes.
416 pages
Publisher: Putnam Adult
Language: English
ISBN: 9780399151439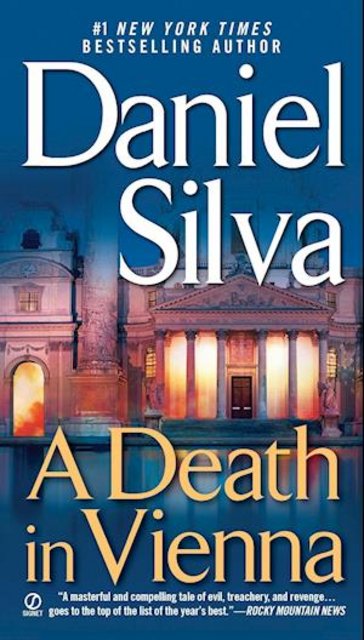 My rating for A Death in Vienna – 5
Buy A Death in Vienna from Amazon.com*
More Books by Daniel Silva*
Thoughts:
"A Death in Vienna" by Daniel Silva is a well written book with a complex plot. The trail of clues that intermingle with historical events and touches complex and sensitive political maze, is a pleasure to read.
Daniel Silva is quickly becoming one of my favorite authors; his books are not only intelligent and sophisticated but also credible. Mr. Silva is one of those authors that takes his historical research seriously and it shows.
This leaves me with a serious problem. No matter how hard I try to put my thoughts down on one of Mr. Silva's books, I always end up sounding like a blurb on the dust jacket.
The plot is full of twists and turns, a wonderful cast of characters (which might be difficult to keep track of if you haven't read the previous books), worldly events, and double-crossing figures. The novel is a great ride, Mr. Silva writes swiftly, the characters are gunning for each other, twisting facts which are not immediately obvious. Pay close attention to this book.
Not falling into the trap of books of the genre that simply quote facts and figures as "part" of the story-line, the thriller tells a story while incorporating the plight of the European Jews during the Holocaust into its pages. Mr. Silva chooses to focus on an individual, a woman who is part of the death march from Birkenau. A story was so unbelievable that even those who suffered through it almost cannot believe it has happened.
As the character in the book explains:
"No one is going to believe such a thing. No one is going to believe it's possible to kill so many. Thousands? Surely, the death of thousands is possible. After all, this was war. Hundreds of thousands? Perhaps. But millions? To tell you the truth, I saw it with my own eyes, and even I cannot believe it."
The author does not try to make these events palatable; the agony, misery, and inhumanity are pulsating from the pages of the book. Mr. Silva takes his time with the book to introduce more back story in the protagonist's life. While it may not work if this is the first of the books in the series that you read, it certainly works if you read them in order.
This book also deals with political issues and how Nazis got protection both from the European as well as the American government. Coincidentally, I saw this disturbing piece in today's news:  Gerry Leitmann, Austrian Politician, Resigns Over Nazi 'Blood And Honor' Tattoo
So tell me, do you think right wing politics still pose a threat in today's world?
About:
Israeli Mossad agent Gabriel Allon is living a double life as an art restorer in Venice. Allon hears that his old friend, Eli Lavon, died as a result of an explosion in the Wartime Claims and Inquiries office in Vienna. At first Allon does not want to investigate due to previous occurrences in Vienna which cause him pain and suffering, but he is persuaded by his boss to take on the case.
After arriving in Vienna, Allon is approached by a man who says that Lavon has discovered a high-ranking notorious Nazi SS officer living in Vienna who is well connected and on a government payroll. The story leads Allon in a more personal direction and he finds out more about his own mother's history in the holocaust.
Buy A Death in Vienna from Amazon.com*
More Books by Daniel Silva*
Zohar – Man of la Book
Disclaimer: I bought this book.
*Ama­zon links point to an affil­i­ate account, the money is usually spent on books
Related articles
BOOK BLOGGERS – Have you read "A Death in Vienna"? If so link up your review below:
--- Please like and follow ManOfLaBook.com ---
Summary
Reviewer
Review Date
Reviewed Item
A Death in Vienna by Daniel Silva
Author Rating





Product Name
A Death in Vienna by Daniel Silva