This week marked the 75th anniversary of Margret Mitchell's "Gone with the Wind". Here are some fun facts about the novel.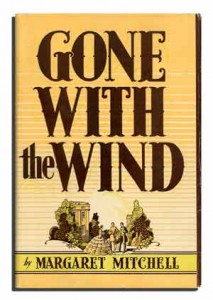 First edition cover
Picture from bookpoi.com
1) Even though Margaret Mitchell is considered one of the most successful novelists of the 20th Century, she only published one book.
2) Because of Mitchell's social connections the book was widely discussed in Atlanta before publication.
3) During one draft of the book, the heroine is called Pansy O'Hara.
4) Harold Latham of the Macmillan Company wanted to publish the novel based on a part of the book Mitchell allowed him to read.
5) By the time "Gone with the Wind" was actually published, it was the most talked about book in America.
6) The novel, released in July 1936, has sold one million copies by December of that year.
7) As of this blog post, "Gone with the Wind" has sold more than 30 million copies.
8 ) The rights for the movie were sold to David O. Selznick for $50,000 a month after publication.
9) Any references to the Klu Klux clan were taken out of the movie.
10) The last line of the book is "My dear, I don't give a damn."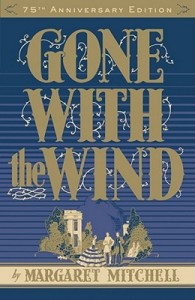 Buy & Save on "Gone with the Wind, 75th Anniversary Edition"
through the ManOfLa­Book affil­i­ate account on:
Ama­zon |Book Depos­i­tory US | Book Depos­i­tory UK
Zohar – Man of la Book
References:
Gone with the Wind by Margaret Mitchell Identifying First Edition Points of Issue – bookpoi.com
Gone with the Wind – destinationhollywood.com
Margaret Mitchel biography – amctv.com
--- Please like and follow ManOfLaBook.com ---