About:
1776 by David McCullough is a non-fiction book about this remarkable year. The book has become a must on the list of every American history buff since it came out.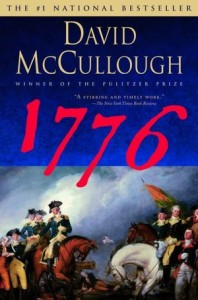 My rating for 1776 – 5
Buy this book in paper or electronic format*
More Books by David McCullough*
Thoughts:
In 1776, historian David McCullough again uses his talent for narrating history the way no one else can. This book takes us back to the time when George Washington, John Adams, General Nathanael Greene, Alexander Hamilton and the rest of the founding men were flesh and blood, not historical figures. This book brings out the struggles and triumphs these guys were faced with, all with eloquence and master story telling.
As much as reading about the Founding Fathers is interesting, for me the real fascinating aspects of the book were the parts about the common soldiers, bystanders and even camp followers. These small stories which are an inseparable from the history they were witnessing are what makes these tales come to life.
Focusing mainly on military aspects as well as the American and British chain of command, the book does delve a bit into the political arena which accompanies such grand scale rebellions. Nevertheless, McCullough's popularity is in no small part due to his ability to put the "story" back in history and this book is no exception. Using selected quotes and uncluttered narrative, the author keeps the book moving in an adventurous pace.
McCullough gives a fresh perspective on what it would have been like living at the time, and how difficult was the mission these folks took upon themselves. It is difficult to imagine the hardships both generals and commoners endured during this time. The author also humanizes the English, and we can understand events from their point of view as well, and gives us a better understanding of how really close they were to actually winning.
Lack of maps and fresh insights are missing from the edition I read. Conversely, it is still a fun read, well researched with a sense of humor throughout.
Related Reads:
Alexander Hamilton by Ron Chernow
His Excellency: George Washington by Joseph J. Ellis
John Adams by David McCullough
Washington: A Life by Ron Chernow
Synopsis:
Based on extensive research both in American, as well as British archives, David McCullough tells of the powerful drama which took place when General George Washington marched towards freedom or certain death.
Men of every shape, size and occupation marched with Washington, from bookseller Henry Knox to boys who became soldiers. Standing against them were the professional and powerful British army led by Commander William Howe.
Buy this book in paper or electronic format*
More Books by David McCullough*
Zohar – Man of la Book
Disclaimer: I bought this book.
BOOK BLOGGERS – Have you read 1776? If so link up your review below:
--- Please like and follow ManOfLaBook.com ---