About:
The Angel's Game is a prequel to Carlos Luis Zafón's previous novel Shadow of the Wind.  I'm very excited about Carlos Luis Zafón's new book The Prisoner of Heaven coming out this month so I decided to revisit and post about his previous book, which I read about a year and half ago.
512 pages
Publisher: Subterranean
Language: English
ISBN-10: 1596063629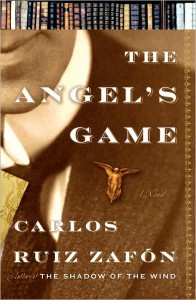 My rating for The Angel's Game – 5
Buy this book in paper or electronic format
Thoughts:
Calling The Angel's Game by Carlos Ruis Zafón (website) a prequel is not the right word, the story takes place in the same general neighborhood in Barcelona and has some of the same minor characters as well as the same mood and ideas (like the wonderful "Cemetery of Forgotten Books"), but it's not about the same people. The story is about an author named David Martin who accepts an assignment to write a book for a very rich client.
An offer too good to be true.
David believes that once a write accepts money of praise for his books he is actually selling his soul – in David's case he sold his soul to the devil. In a spinning and elaborate tale, using Zafón's sarcastic and macabre style, David is manipulated and pulled into events beyond his control, committing crimes and being chased by the crooked police, criminals and his own conscience while losing everything he loves.
I found the characters in the book to be more dimensional than Shadow of the Wind, the pace a bit slower and purposeful. The book is very enjoyable, even though I didn't laugh as much as I did reading Shadow of the Wind, I still enjoyed Zafón's cynicism, his story telling and prose.
I'm not used to reading horror / goth / spooky genre so some parts of the book were a bit freaky to me – however I took great joy in the embellished prose which pulled me to Shadow of the Wind.
A big acknowledgment to the very fine translation by Lucia Graves who, once again, did a masterful job.
Related Reads:
Shadow of the Wind by Carlos Ruiz Zafón
So tell me, which new book are you looking forward to?
Synopsis:
David Martin, an orphan, finally achieves success writing the series "City of the Damned". Martin's work catches the eye of Andreas Corelli, a publisher fromParis, who offers Martin a large amount of money to use his literary skills to create a new religion.
Zohar – Man of la Book
Disclaimer: I borrowed this book from the local library
BOOK BLOGGERS – Have you read The Angel's Game? If so link up your review below:
--- Please like and follow ManOfLaBook.com ---
Summary
Reviewer
Review Date
Reviewed Item
The Angel's Game is a prequel to Carlos Luis Zafón
Author Rating





Product Name
The Angel's Game is a prequel to Carlos Luis Zafón