About:
Preventable: The Inside Story of How Leadership Failures, Politics, and Selfishness Doomed the U.S. Coronavirus Response by Andy Slavitt is a non-fiction book taking a behind the scenes look at the U.S.' COVID-19 response under the Trump administration.  Mr. Slavitt is a businessman, healthcare advisor and executive, who served as a temporary Senior Advisor to the COVID-19 Response Coordinator in the Biden administration.
9 hours and 53 minutes
Publisher : Macmillan Audio
Language : English
ASIN: B08HSQHCM8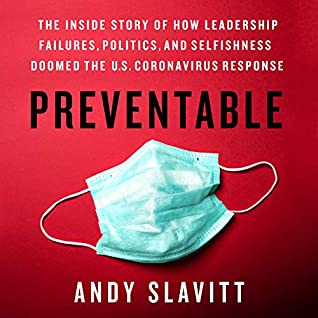 My rating for Preventable – 5
Buy Preventable from Amazon.com*
More books by Andy Slavitt*
More books narrated by Bradly Whitford*
Thoughts:
If you have been paying attentions since the early part of 2020, Preventable: The Inside Story of How Leadership Failures, Politics, and Selfishness Doomed the U.S. Coronavirus Response by Andy Slavitt isn't going to provide many new revelations. However, the book does summarize, analyze, and puts in perspective the dumpster fire we call 2020.
The author, above all a proponent of healthcare reform, just like everyone else not making money from the system, does provide an excellent explanation of where all the money goes to. After all, it is a slap in the face of Americans who pay more for healthcare, and get less.
Mr. Slavitt is a partisan insider, and does not hide it. His analysis, however, is consistent with everything I read, and watched in real-time. I'm really sorry to find out that my pessimism was well placed, and not an overreaction.
The most disturbing part, for me, was the politicization of public health. This is something that should rise above politics. Even a sync like myself didn't realize, at the time, the level interference and politicization which was involved in something which had real life or death consequences.
It's obvious whose toes the author is not trying to step on. Dr. Deborah Burke, for example, gets a pass because she was trying to manage upwards. On the other hand, others who were sucked into the Trump administration's orbit do not get such benefit.
One thing was certainly clear to me after 2020, and is crystal clear after reading this book. We, Americans, haven't learned a damn thing. The next pandemic, one that's not only going to kill the most vulnerable, is going to be devastating.
This is a partisan book, no one is trying to hide that fact, but it's not a "hit piece". But it doesn't mean it's wrong and the position of the President of the United States is such that you get the credit, or the blame, for what happens during your reign whether you had control of it (pandemic response) or not (ex: gas prices).
The narration by actor Bradly Whitford is fine, but his voice goes up and down which is sometimes difficult to hear or pay attention. There is one part where he askes to go to the bathroom, I don't know if that was left in on purpose, but it was a welcomed relief for such a serious subject.
Buy Preventable from Amazon.com*
More books by Andy Slavitt*
More books narrated by Bradly Whitford*
Zohar — Man of la Book
Dis­claimer: I bought this book through an Audible.com membership.
*Ama­zon links point to an affil­i­ate account
--- Please like and follow ManOfLaBook.com ---
Summary
Reviewer
Review Date
Reviewed Item
Preventable: The Inside Story of How Leadership Failures, Politics, and Selfishness Doomed the U.S. Coronavirus Response by Andy Slavitt
Author Rating





Product Name
Preventable: The Inside Story of How Leadership Failures, Politics, and Selfishness Doomed the U.S. Coronavirus Response by Andy Slavitt