About:
Drac­ula by Bram Stoker is a clas­sic hor­ror book writ­ten in 1897. The book was part of a genre called inva­sion lit­er­a­turein which mon­sters tries to take over the United Kingdom.
408 pages
Pub­lisher: Barnes

&

Noble;

1ST

edition

ISBN

: 1435129733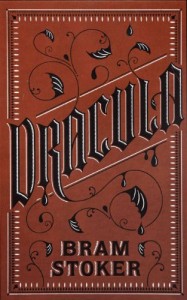 My rat­ing for Drac­ula — 5
Buy & Save on Drac­ula through the ManOfLa­Book affil­i­ate account on:
Ama­zon | Kin­dle(Free) | Book Depos­i­tory US | Book Depos­i­tory UK
Part of the League of Extra­or­di­nary Gen­tle — Men of la — Book Chal­lenge (Vol. 1)


Thoughts:
At first I didn't think I'd like Drac­ula by Bram Stoker and I'm sur­prised at how much I did like it. The novel is com­posed of let­ters, jour­nals, news­pa­pers arti­cles, telegrams and a chill­ing ship log.
The story is told through alter­nat­ing view points, the only per­son who knows the whole story is Van Hels­ing – and that includes the reader. At the end of the novel you still don't know if you missed some­thing or if Stoker pur­posely left some­thing out. While I can cer­tainly see how that would bother peo­ple, per­son­ally I thought that was part of the genius of the book.
I was sur­prised at the many themes the novel touched, from sex­ual con­ven­tions, to immi­gra­tion and from cul­ture to colo­nial­ism and, of course, good vs. evil. The novel is extremely atmos­pheric as one would expect.
The role of Mina Harker was sur­pris­ing at most, espe­cially con­sid­er­ing this is a Vic­to­rian novel. While virtue and inno­cence are unabash­ingly hailed, Mina assumes the role of a pious woman yet rise above her pre­scribed roles in soci­ety to become a part­ner with the men hunt­ing the monster.
Yet my biggest sur­prise was Drac­ula. For being the title char­ac­ter he is found very lit­tle in the novel, yet his pres­ence is on every page. How Stoker man­aged to accom­plish that is a mys­tery and is sim­ply noth­ing but aston­ish­ing. The Count is a strong char­ac­ter, he doesn't give up, he doesn't want to be under­stood or for­given. The Count will destroy you unless you destroy him first.
Intel­li­gent, well crafted and well writ­ten, the book reads as if it was writ­ten yes­ter­day. It is just as rel­e­vant today as it was in Vic­to­rian times.
Syn­op­sis:
An Eng­lish solic­i­tor named Jonathan Harker trav­els from Eng­land to meet Count Drac­ula in his cas­tle in Tran­syl­va­nia to pro­vide legal real estate sup­port. Harker soon dis­cov­ers he is a pris­oner in the cas­tle and noticed Dracula's noc­tur­nal life.
Harker barely escapes.
Soon after a Russ­ian ship runs aground in Whitby, Eng­land. All the crew are miss­ing, only the body of the cap­tain is found. In the captain's log there are tales of strange events which took place dur­ing the jour­ney, lead­ing to the crew's dis­ap­pear­ance.
A large dog is seen jump­ing a shore.
Later in Eng­land, Harker's finacee Mina Mur­ray and her friend Lucy West­enra are being tracked by Drac­ula. One of Lucy's friends, Dr. Seward, is tak­ing care of an insane man named Ren­field who eats insects, birds and spi­ders to absorb their life force.
Unfor­tu­nately Lucy starts to waste away and Dr. Seward calls his old teacher Pro­fes­sor Abra­ham Van Hels­ing from Hol­land. Van Hels­ing rec­og­nizes Lucy's ill­ness but refuses to spec­ify because he is afraid Seward will not believe his sto­ries of vampires.
The doc­tors lose the fight and Lucy dies. Soon after, reports of chil­dren being stalked by a beau­ti­ful lady at night are being talked about. Van Hels­ing knows Lucy became a vam­pire. Together with Lucy's suit­ors, Van Hels­ing tracks her and kills her.
Mina and Jonathan get mar­ried but Drac­ula learns of Van Helsing's plot and takes revenge by feed­ing from Mina and mak­ing her drink his blood cre­at­ing a spir­i­tual bond. The group knows that the only way to save Lucy is to kill the Count.
Drac­ula flees back to Tran­syl­va­nia, pur­sued by Van Hels­ing and his group who are aided by Mina. Van Hels­ing goes to the Count's cas­tle and kills his brides. The rest of the group attacks the cas­tle at sun­down and kills the Count.
Buy & Save on Drac­ula through the ManOfLa­Book affil­i­ate account on:
Ama­zon | Kin­dle(Free) | Book Depos­i­tory US | Book Depos­i­tory UK
Zohar — Man of la Book
Dis­claimer: I got this book for free.
This post appeared in the Book Review Blog Car­ni­val #83.
Related arti­cles
Buy & Save on Jacob T. Mar­ley through the ManOfLa­Book affil­i­ate account on:
Ama­zon | Kin­dle | Book Depos­i­tory US | Book Depos­i­tory UK
BOOK BLOGGERS — Have you read Drac­ula? If so link up your review below:
Enjoy this post? Why don't you sign up for the RSS feed