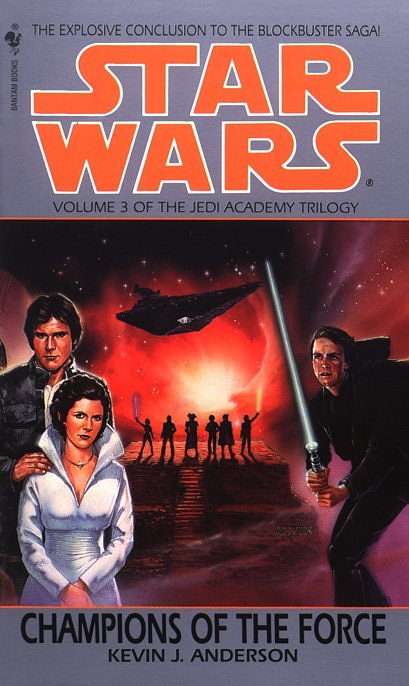 Buy this Star Wars Book in paper or elec­tronic copy*
Andrew:
Orig­i­nally pub­lished at: http://www.rancorslovetoread.com/2009/01/andrews-review-of-jedi-academy-trilogy_2371.html
2/5 Ran­cors — Cham­pi­ons of the Force is the final book in Kevin J. Anderson's Jedi Acad­emy Tril­ogy. It con­tin­ues much in the vein of the first two nov­els: a some­what promis­ing and engag­ing sto­ry­line is dragged down by pedes­trian writ­ing and some very hokey scenes. The 300-some pages of this book are essen­tially one extended cli­max to the tril­ogy. One bat­tle in par­tic­u­lar, the assault on the Impe­r­ial facil­ity in the Maw, almost stretches the entire length of the story.

The Ban­tam Spec­tra era of Star Wars nov­els was noted for the authors' predilec­tion to invent "superweapons-of-the-week." True to form, this tril­ogy con­tains not one but two in the form of a pro­to­type (but fully func­tional) Death Star and the even more pow­er­ful Sun Crusher. It's not that hard to swal­low the exis­tence of a pro­to­type Death Star, although the idea feels a tri­fle overused after see­ing them in A New Hope and Return of the Jedi. How­ever, the Sun Crusher con­cept goes beyond the pale. Ander­son asks the reader to accept it took a 100+ kilo­me­ter wide sphere to sup­port a laser that could destroy a planet, but this tiny fighter-sized craft car­ries the power to cause super­novas. Ick.

The Impe­ri­als of this story are sadly incom­pe­tent. Admi­ral Daala con­tin­u­ally praises her own abil­i­ties and chuck­les dia­bol­i­cally at the havoc she is about to unleash on the New Repub­lic, but her tac­tics are weak and her plans fail time after time. The other key Impe­r­ial char­ac­ter, Ambas­sador Fur­gan from the Impe­r­ial train­ing world Carida, is sim­i­larly depicted. Both are a long step down from Grand Admi­ral Thrawn.

Luke spends much of this novel in a comatose state while his spirit mys­ti­cally wan­ders free. Ander­son sets up a big con­fronta­tion between Luke's spirit and that of Exar Kun, the 4000-year old Sith Lord from his comic series Tales of the Jedi. There's poten­tial here but when the cli­max comes it is under­whelm­ing. It makes the point that the Jedi can­di­dates will have to go beyond them­selves and work together to suc­ceed, but these char­ac­ters are so one-dimensional it's hard to care. I appre­ci­ate what Ander­son tried to do in this tril­ogy by explor­ing Luke's uncer­tainty about res­ur­rect­ing the Jedi and chart­ing a course for the future, but I don't like the weak­ness he cou­pled with the inde­ci­sion. It takes Luke too far from the hero so loved in the films.

As I men­tioned in my prior reviews of the Jedi Acad­emy Tril­ogy, the events con­tained within are too big to ignore to under­stand the Star Wars Expanded Uni­verse fully. The books are easy to read and won't require a whole lot of time or much deep thought. How­ever, there are some def­i­nite flaws pre­vent­ing me from rec­om­mend­ing these books to a more casual reader.
Buy this Star Wars Book in paper or elec­tronic copy*
David:
Orig­i­nally pub­lished at: http://www.rancorslovetoread.com/2009/04/davids-review-of-jedi-academy-trilogy.html
4/5 Ran­cors — Cham­pi­ons of the Force by Kevin J. Ander­son is Vol­ume 3 of The Jedi Acad­emy Tril­ogy. I found the story to be an excel­lent follow-up to the first two books. Mr. Ander­son weaves a good tale with our favorite heroes involved in all kinds of dire sit­u­a­tions all through the galaxy. Luke, of course, is run­ning his Jedi Acad­emy on Yavin 4 and has to rely on the skills and force pow­ers of his trainees (plus Han and Leia's chil­dren) to bring him out of the trou­ble he was left in at the end of Vol­ume 2. Kyp Dur­ron, hav­ing been won over to the dark side by the spirit of Exar Kun, is off in the Sun Crusher bring­ing death and destruc­tion to the Empire, although doing it in a Sith fash­ion instead of by Jedi meth­ods. Wedge ends up back at the Maw Instal­la­tion try­ing to see what can be sal­vaged. Leia is appointed to run the New Repub­lic as Mon Mothma's health fails. She also has to make a des­per­ate trip to the planet where baby Anakin is hid­den to save him from a kid­nap attempt by the bad guys. Han, Lando, Chewie, and Mara Jade are off on other adven­tures. The action is pretty much non­stop, and Mr. Ander­son does a good job of weav­ing the sto­ries together. On top of all that, Admi­ral Daala turns out to be alive with one remain­ing Impe­r­ial Star Destroyer, and a func­tion­ing pro­to­type of the Death Star also enters the pic­ture. Whew! All good stuff.

I only have a cou­ple of real reser­va­tions about the three books in the tril­ogy. The author seems to feel oblig­ated in each book to lessen the mood by includ­ing attempts at humor. In Jedi Search, we have the Umgul­lian blob races, i.e., blobs rac­ing around an obsta­cle course. In Dark Appren­tice, we have the own­er­ship of the Mil­len­nium Fal­con going back and forth between Han and Lando based on the whims of sabacc games. This is really hard to accept. In Cham­pi­ons of the Force, we have the ulti­mate bureau­crat try­ing to com­mand the Death Star by hav­ing meet­ings, estab­lish­ing pri­or­i­ties, and turn­ing to pro­ce­dure man­u­als to han­dle any sit­u­a­tions. This slam at meth­ods of cor­po­rate man­age­ment was slightly clever at first but wore thin with repeated usage.

My other reser­va­tion deals with the approach taken to Luke, We keep wait­ing for Luke to take over and assert him­self as a true Jedi Mas­ter, but he is pre­sented as inde­ci­sive and extremely unsure of him­self. Sev­eral times I found myself won­der­ing where the real Luke Sky­walker was. I miss him. Still, this third book and the entire tril­ogy are fun to read.
Buy this Star Wars Book in paper or elec­tronic copy*
*Ama­zon links point to an affil­i­ate account
Enjoy this post? Why don't you sign up for the RSS feed