About:
Girl with a Pearl Earring by Tracy Chevalier is a historical fiction novel taking place in 17th Century Holland. The book has fascinating descriptions of the times, how people lived and behaved.
256 pages
Publisher: Plume; Deluxe edition (August 30, 2005)
Language: English
ISBN-10: 0452287022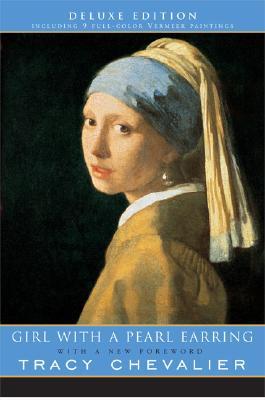 My rating for Girl with a Pearl Earring – 3
Buy this book in paper or in elec­tronic format*
 Thoughts:
Girl with a Pearl Earring by Tracy Chevalier (website | Facebook | @Tracy_Chevalier)was neither here nor there.
The story seems like an episode of the old British drama "Upstairs Downstairs" set in Holland with a coming of age story neatly tucked in it as well. The plot is somewhat interesting with one well developed character (Griet) and none others I cared about.
The book is written very well but nothing happens and for awhile I was actually bored. Some of the characters are well developed but I was hoping for Johannes Vermeer's character to  be more in depth. To my disappoint Vermeer played a minor (yet important) part in the book.
However, the descriptions of 17th Century Holland, the class system and mercantile society were excellent, which by itself was worth finishing the book. The descriptions of how the paintings were painted were amusing as well and since I had the "Deluxe Edition" with 9 full color paintings I could flip back and forth, reading the descriptions and seeing what they pertained to.
I can certainly see why many people loved this book, it is classical, dramatic and a pleasure to read because (not despite) the slow pace. Technically, this is an excellent book and I can't wait to read more of  Ms. Chevalier's work.
Synopsis:
A young woman named Griet arrives at Vermeer's house to be a new servant. She had some tragedy in her family and so ended up a maid. As she gets to be part of the family, Vermeer allows her to help him, due to her artistic eye. Eventually she poses for the famous "girl with a pearl earring" painting, which ends up being her undoing.
Buy this book in paper or in elec­tronic format*
Zohar — Man of la Book
Dis­claimer: I got bought this book.
*Ama­zon links point to an affil­i­ate account
--- Please like and follow ManOfLaBook.com ---