About:
War and Peace by Leo Tolstoy is a fictional book first published in 1869. The work is regarded as one of the most important works of world literature. The copy I read was translated by Louise and Aylmer Maude.
1350 pages
Publisher: Oxford University Press, USA; New edition
ISBN: 0199232768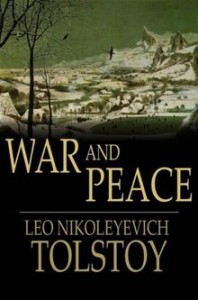 Thoughts:
This part of the book takes a larger view of the French retreat.
Tolstoy does not understand how historians refer to Napoleon as "great" as he does not live up to the standards of humanity and goodness, neither as a military commander, emperor, leader or even in exile. As a conqueror / enemy / ally Napoleon constantly mislead the Russians and destroyed their economy. When he gives the order for the French to retreat, Napoleon already made sure he's the first one to withdraw.
Tolstoy writes about Pierre, now a prisoner of war who experiences happiness for the first time in his life, not because he has everything but because he lives the simple life. Here I agree with Tolstoy's analysis but not his reasoning.
I believe that unhappiness is caused by too many choices.
For example: you go to the store to buy a pair of jeans and find out that the store has 250 styles for you choose from. You try on a few, obviously not many people will try on all 250, and pick the one you think fits best. When you get home you realize that the pair you bought doesn't fit as nicely as you thought.
Whose fault is it?
Yours. Because you didn't try on all 250 pairs.
However, what if the store had only five styles to choose from?
You'll try on five pairs, pick the one that fits the best and go home happy. Most likely that pair won't fit as well; actually it might actually be the same pair you picked out the choice of 250.
Whose fault is it now?
The store's fault for not having more choices.
See, you're happier.
Synopsis:
The French Army is retreating and it is a mass. The usually disciplined troops unburden themselves of equipment and instead pick up as much plunder as they can carry. The army is destroying itself from within.
Even though the French Army is in disarray, Kutuzov still tries to avoid battles due to the sad state of the Russian Army. However, the military commanders are eager for conflict and make a whole bunch of complex plain to engage. When Kutuzov finally agrees to engage, he realizes that he was right as the Russians are not prepared to fight. At the same time Kutuzov gets a reputation as a coward without audacity.
Pierre is still a prisoner but had made friends with his captors, however when the orders came to withdraw the French became violent and brutal. The captors force the prisoners to march as well and any straggles will be shot and Pierre observes the same look on the French as he had seen during the executions.
Even though he was a prisoner, Pierre actually experienced some form of happiness. Pierre feels that overabundance leads to unhappiness and as a prisoner he has anything but. He eats when he's hungry, drinks when he's thirsty, and found the wisdom of the simple people just when he needed it most.
The prisoners are shocked to see how Moscow has been destroyed and standing empty. The French soldiers, who themselves are miserable and stressed, treat the prisoners very bad. The prisoners are starving, exhausted and the French actually go through with their threat of shooting stragglers. As he nears mental and physical exhaustion Pierre starts laughing as they cannot imprison his soul.
When Kutuzov hears that the French are retreating, he breaks down crying and praying.
Zohar – Man of la Book
Dis­claimer: I got this book for free
*Ama­zon links point to an affil­i­ate account
--- Please like and follow ManOfLaBook.com ---