Ernst Jünger (29 March, 1895 – 17 February, 1999) was a German essayist and novelist.  Jünger is known for his account of experiences during World War I.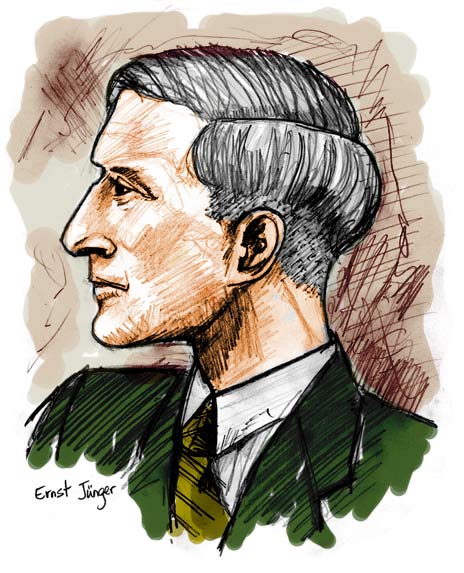 In 1913 young Ernest ran away from home to join the French Foreign Legion and even served in North Africa (although briefly).
In World War II Jünger served on the German Army's Western Front and was wounded seven times.
Jünger was awarded the Iron Cross First Class and the "Blue Max" (Pour le Mérite) which was Prussia's highest military decoration at the time.
Jünger's book Storm of Steel (Stahlgewitter) describes his war experiences and was self-published.
Storm of Steel was an instant success and Jünger became instantly famous and was seen glorying war.
In this second book Fire and Blood (Feuer und Blut, 1925) Jünger amused that war elevates a soldier's life and transcends into a mystical experience.
Even though Jünger "hated democracy like the plague" and published right wing nationalistic articles, he never supported the Nazi Party and refused to endorse or join them. That being said, Storm of Steel sold in the millions by the end for the 1930s. in 1930 Jünger published On Nationalism and the Jewish Question (Über Nationalismus und Judenfrage) where he argued that the Jews are a threat to the unity of Germany.
Jünger rejected the ideas of liberty, security and comfort and instead thought that a man can be measured by pain and sacrifice.
Even though he was a right-wing anti-Semite, Jünger still had a negative view on Hitler's Germany and was considered an inspiration to the conservative anti-Nazi movement and was even slightly involved in the Stauffenberg bomb plot.
Before his death, Jünger called Germany's ideology of war "a calamitous mistake".
Zohar – Man of la Book
--- Please like and follow ManOfLaBook.com ---