About:
The Killer Angels by Michael Shaara is a Pulitzer Prize winning historical fiction masterpiece. The book takes place over three days during the Battle of Gettysburg.
355 pages
Publisher: Ballantine Books
Language: English
ISBN-10: 0345348109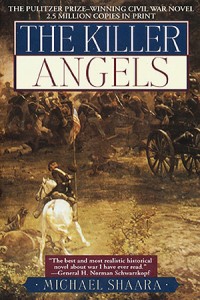 My rating for The Killer Angels – 5
Buy this book in paper
 or in elec­tronic format.
Thoughts:
 The Killer Angels by Michael Shaara is a wonderful portrayal of the horrors, honor and thinking which goes into a battle. The novel delves into the minds of General Robert E. Lee, General James Longstreet, General George Pickett, General John Buford, General Winfield Scott Hancock and Col. Joshua Lawrence Chamberlain whom I found to be the most interesting character in the book.
The author uses both historical accounts and pure fiction in his storytelling. The internal thoughts are pure fiction even though they are based on written documents. The story centers around the Battle of Gettysburg and specifically the battle of Little Roundtop and Pickett's Charge. The actions is written in a very coherent and readable fashion, I could sense the excitement, anxiety and fear.
Each day of the battle is told through the eyes of the commanders, Robert E. Lee & James Longstreet of the Confederacy while opposing them are the eyes of  Joshua Lawrence Chamberlain and John Buford for the Union forces. There are maps throughout the book which helps the reader follow the narrative. It's wonderful to read about the decisions the commanders made, while following the troops on the map as they advance, withdraw or hold the line.
Besides descriptions of the battle, the author also uses the narrative to go through the causes of the American Civil War as well as the motivations which led to these bloody battles.
This is one of those books I picked up a few years ago during my "American Civil War" kick where I read anything I could about the war. I'm very grateful to have picked up this book because it got me interested in the real life people, General James Longstreet and Col. Chamberlain were the two which really caught my fancy.
So tell me, have you ever read historical fiction and then went out to research more about non-fiction characters?
Synopsis:
During three bloody days, two armies clashed in Gettysburg, PA.  The battle is told through the view point of the Generals, where the reader is privy to their inner thoughts and workings as well as to the battle plans.
Buy this book in paper
 or in elec­tronic format.
Zohar – Man of la Book
Disclaimer: I bought this book
Related articles
BOOK BLOGGERS – Have you read The Killer Angels? If so link up your review below:
--- Please like and follow ManOfLaBook.com ---