About:
The Hunger Games by Suzanne Collins is a dystopian novel written for young adults (YA). Even though the main audience targeted, the book has struck chords with parents as well and has been a best seller since it came out.
384 pages
Publisher: Scholastic Press; Reprint edition (July 3, 2010)
Language: English
ISBN-10: 0439023521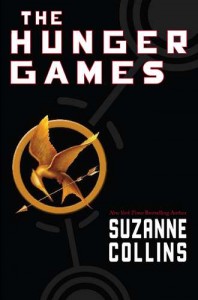 My rating for The Hunger Games – 4
Buy this book in paper or electronic for­mat
Or get The Hunger Games Trilogy in paper or electronic format
through the Man of la Book Affil­i­ate Account
Thoughts:
I'll admit it, I read The Hunger Games by Suzanne Collins (website) because my wife did and I didn't… we can't have that now.
Can we?
I can certainly see why the book was such a hit. The novel struck many chords and many themes (teenage anguish, love, work, poverty and more), was an easy and quick read, as well as full of action.
Ms. Collins built a fantastical and believable world where the United States is no more and instead the country is now called Panem which is run from "The Capital" and divided into 12 districts. The story progresses quickly and fluently with well defined characters who have lame names.
Don't tell me that the baker's son is named Peeta (Pita) by accident.
I can certainly understand how the YA crowd fell head over heels for this novel.
For me though, and I understand perfectly well I'm not the target audience, the love triangle was cliché but I loved the violence and speed of this novel. The constant suspense kept me turning page after page as, I assume, most of those who read the book. Once I got over my name prejudice, I even liked the protagonist – a bow and arrow female Wilhelm Tell, how can you not like her?
Ms. Collins' prose is efficient in a no-nonsense style filled with dry humor which causes the book to become addictive. Like any good story, you are immersed in the universe built around you, yet you know it is not real but you can't stop reading.
That being said, there were some aspects of the book which were too convenient, when Katniss babysits Peeta the second half of the book, the stuff she needs floats down from the sky, that might be passable for the intended audience, but not for me. Also the ending was a bit disappointing, I especially disliked the mutated werewolves but, since this is part of an extremely successful trilogy and the audience certainly stuck around to find out what happens – who am I to say anything?
So tell me, how did you like the ending?
Synopsis:
North America has been destroyed and is now run by the powerful Capital and is devided into 12 districts (district 13 has been destroyed due to a rebellion). In district 12 ace hunter Katniss Everdeen, a 16 year old girl, carves out a meager existences for herself, her younger sister Prim and their widowed mother. In order to keep the 12 districts aware of who runs the county, the Capital arranges a game to the death each year in an elaborate arena. Each districts holds a drawing of one boy and one girl to go as tributes. When her sister is picked, Katniss exercises her option to volunteer for the games. Along with Katniss comes also Peeta, the baker's son, who grew up with her.
Katniss and Peeta must fend for themselves against natural elements, the Gamemakers and the other contestants whose only option is to kill or be killed.
Buy this book in paper or electronic for­mat
Or get The Hunger Games Trilogy in paper or electronic format
through the Man of la Book Affil­i­ate Account
Zohar – Man of la Book
Related articles
BOOK BLOGGERS – Have you read The Hunger Games? If so link up your review below:
--- Please like and follow ManOfLaBook.com ---