The Hunger Games movie comes out today. I thought it would be fun to bring up some fun facts for all the fans. Check out this blog tomorrow for my thoughts on the novel.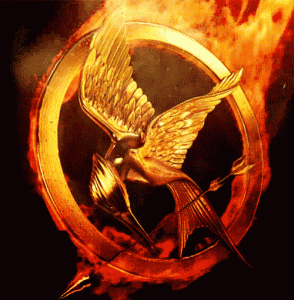 Buy The Hunger Games Trilogy Set
1 ) Author Suzanne Collins (website) said she got the idea for The Hunger Games while surfing channels and seeing people competing on a reality show and footage of the invasion of Iraq. The two blurred and an idea was formed.
2 ) The Hunger Games' initial print was 200,000, bumped up from 50,000
3 ) The book has been translated to 26 different languages
4 ) Suzanne Collins is the first children's or YA author to sell over a million Kindle eBooks and, as of March 2012, Collins is the best selling Kindle author of all times.
5 ) The Hunger Games can also claim 29 of the 100 most highlighted passages in Kindle eBooks and, at the time of this post, Collins has written 17 of the top 20 most highlighted passages.
6 ) The novel ranks fifth on the American Library Association of most banned books for 2010 for being "sexually explicit, unsuited to age group, and violence."
7 ) Suzanne Collins noted that some of the themes in The Hunger Games are "severe poverty, starvation, oppression, and the effects of war among others".
8 ) The bird on the cover of the book is a Mockingjay – a genetically engineered bird.
9 ) Even though the reviews for The Hunger Games were mainly positive, some critics were saying that it was similar to the 1999 novel Battle Royale by Japanese author Koushun Takami. However, author Stephen King noted that the TV series Badlands as well as the novels The Running Man and The Long Walk (both written by King) are all similar to Battle Royale. Collins on her part maintains that she have never heard of Battle Royale before her book was "turned in".
It is now generally accepted that both The Hunger Games and Battle Royale, while similar, have "enough possible sources for the plot line that the two authors might well have hit on the same basic setup independently".
By the way, conveniently the release of Battle Royale's DVD is scheduled for today.
Coincidence? I think not.
10) The Hunger Games have received numerous awards including:
Publisher's Weekly Best Book of the Year for 2008
The New York Times Notable Children's Book of 2008
Gold Duck Award in the Young Adult Fiction Category – 2009
2008 Cybil Winner for fantasy and science fiction books (along with Neil Gaiman's The Graveyard Book – my thoughts | cover gallery)
One of the School Library Journal Best Books of 2008
Booklist Editor's Choice – 2008
California Your Reader Medal – 2011
Zohar – Man of la Book
Related articles
--- Please like and follow ManOfLaBook.com ---