About:
The Dump by Peppe Arninge is a photo book with a series of haunting images in black and white. The photos are taken around Cambodia's garbage dumps and evoke powerful feelings.
78 pages
Publisher: Publicera Publishing Ltd
Language: English
ASIN: B0076I642W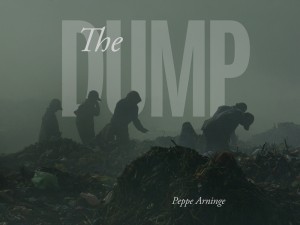 My rating for The Dump –

5
Thoughts:
When I was contacted by Mr. Arminge to read The Dump it took me some time to agree. Photo books are not really my forte (a good argument could be made that no books are actually my forte…but we'll leave that alone). After doing some research and reading Mr. Arninge's resume and  portfolio, I decided to have a look.
The book shows some of the extraordinary photos Mr. Arninge took in Cambodia, it is an important historical document and a painful way to drive home a point. Seeing children digging through trash, fighting day by day other children, adults, rats, dogs and disease for a few scraps is heartbreaking.
I have been witness to several acts of evil us human beings are capable of over the years – but cruelty against children affects me a different a way. It is beyond my comprehension when adults are cruel to children, those acts sadden me when in fiction and horrify me when in reality.
The feeling of despair, hopelessness, extreme poverty and most of all – humiliation screams across the pages. It is sad to look at children's eyes and know that statistically they won't make it past their teens.
Along with the notable images, Mr. Arninge includes some text which calls for reflection – not much text but together with the images one could feel the emotions swell.
So tell me, do you think kids scavenging in dumps is a Cambodian issue or an international human rights issue?
Zohar – Man of la Book
Disclaimer: I got this book for free.
BOOK BLOGGERS – Have you read The Dump? If so link up your review below:
--- Please like and follow ManOfLaBook.com ---