About:
"Call Me Princess" by Sara Blædel is a crime fiction book taking place in Denmark. This is the first book translated by this successful and popular Scandinavian author.
352 pages
Publisher: Pegasus
Language: English
ISBN-10: 1605982512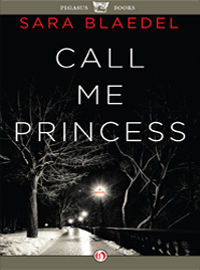 My rating for Call Me Princess – 4
Buy Call Me Princess from Amazon.com*
More books by Sara Blædel*
Thoughts:
"Call Me Princess" by Sara Blædel (website | Facebook | Twitter) is a good, solid crime fiction book. I requested this book because I've read several crime-fiction novels from Scandinavian authors and sincerely liked them so I figured I'll read as much as I can before I am forced to learn Danish.
The main character of Louise Rick is real and likeable and even relatable on some level to someone like me. The interaction between the characters (mostly fellow officers, a female best friend and a boyfriend) is comfortable and real. While the rape case is certainly front and center of the narrative, Louise's personal life was a secondary story.
Instead of being an action novel, most of the story involving the police relies on the descriptions of procedural and solid police work. I do not know how the Copenhagen Police Department works, but the descriptions were interesting and seemed to ring true.
Another sub-plot is the perilous world of online dating, the novel does try to even out the perception but the point-of-view is pretty clear. Personally I think that online dating is a bit better than  a drunkard meeting a stranger in a dark, smoky room filled with other drunks.
As I mentioned, I liked the characterization in the book. Louise, a no nonsense cop, Camilla, her ruthless bitch of a best friend, boyfriends and co-workers.  Besides dealing with her work, Louise must also deal with her media hugging boss, unreasonable supervisors, witnesses who go back on their testimony and more.
I have read several books by Scandinavian authors and the one thing which strikes me as a common denominator with all of them (besides the obscene amounts of coffee and the glorious descriptions of open faced sandwiches) is the way they all depict how women are treated in the northern countries. Many, if not all, of the books try to balance it out with a strong female protagonist, yet I get a strange feeling that these societies have some more issues to explore.
Maybe it's because many of the stories have an almost identical rape/crime against women scenes?
The book is interesting and a quick read. The story doesn't tie up all the loose ends, but in this case I don't mind. Most things in life don't end up in a neat package (at best a wooden box).
So tell me, have you noticed any patterns in novels from the same country?
Synopsis:
Louise Rick is an Assistant Detective in the Copenhagen PD. Ms. Rick is called to investigate the brutal rape of Susanne Hanson. As the AD investigates she discovers Susanne met her attacker on an online dating site and that she is not the only victim.
Buy Call Me Princess from Amazon.com*
More books by Sara Blædel*
Zohar — Man of la Book
Dis­claimer: I bought this book
*Ama­zon links point to an affil­i­ate account, the money is usually spent on books
BOOK BLOGGERS – Have you read "Call Me Princess"? If so link up your review below:
This post is in the 81st

--- Please like and follow ManOfLaBook.com ---
Summary
Reviewer
Review Date
Reviewed Item
Call Me Princess by Sara Blædel
Author Rating