About:
20,000 Leagues Under the Sea by Jules Verne is a classic science fiction novel published in 1870. The book's original title Vingt mille lieues sous les mers, the literal translation would be "Seas" which might imply the seven seas.
416 pages
Publisher: Naval Institute Press
ISBN-10: 0870216783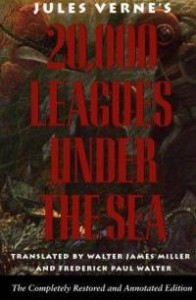 My rating for 20,000 Leagues Under the Sea – 5
Buy & Save on 20,000 Leagues Under the Sea
through the ManOfLa­Book affil­i­ate account on:
Ama­zon | Kin­dle | Book Depos­i­tory US | Book Depos­i­tory UK
Part of the League of Extra­or­di­nary Gen­tle — Men of la — Book Chal­lenge (Vol. 1)


Thoughts:
I have read 20,000 Leagues Under the Sea by Jules Verne in two languages and several versions. I have to say that this translation beats them all.
The book shows Verne's genius which is tough to translate, the characters come alive on the pages and the adventures they go through are exciting. The comedic tone and even psychology show well in this wonderful translation.
As in the previous versions I have read, there are many "lists" and descriptions of the ocean life. I have to say that I did skimmed through the lists but read the descriptive parts enthusiastically. With the exception of intricate scientific names, which lend credibility to this fantasy, I found the book absorbing and engrossing. I'm glad I read it again.
While submarines today are common place and almost anyone of can go and visit one (there are several older submarines which one can go on), the fantastic voyages and imagination are inspiring today as they were in 1870.
What I love about this book is that the translators took their time to write an excellent introduction and, best of all, wonderful footnotes which, as I said time and time again, make a translated book into a cultural experience and raises the level of enjoyment by multiple degrees.
Not many people are aware, but almost a whole quarter of the book was literally lost in translation. This wonderful edition, translated by Water James Miller and Frederick Paul Walter, restores those pages as well as
If you ever wondered what the big hoopla is about Jules Verne, read this version and you'll find out.
So tell me, have you ever wondered if something is lost in translation?
Books which I thought were similar:
Synopsis:
The story is told from the view point of Professor Pierre Aronnax, a famous French marine biologist. The professor accepts an invitation to join an expedition to destroy a sea monster who is sinking ships. Along for the ride come Canadian harpoonist Ned Land and Conseil, the professor's servant.
The expedition fails, the monster sinks it and the Professor, Ned Land and Conseil find themselves at the mercy of Captain Nemo, who commands The Nautilus, a submarine the likes of which have never been seen.
Buy & Save on 20,000 Leagues Under the Sea
through the ManOfLa­Book affil­i­ate account on:
Ama­zon | Kin­dle | Book Depos­i­tory US | Book Depos­i­tory UK
Zohar – Man of la Book
Jules Verne
Related articles
BOOK BLOGGERS – Have you read 20,000 Leagues Under the Sea? If so link up your review below:
--- Please like and follow ManOfLaBook.com ---