The publisher is giving away 3 books – please enter through the rafflecopter form at the end of the post
Red Eagle: The War Within
By Jens Cromer, Chief Editor at Peachill
Buy Red Eagle: The Red Stick War of Alabama  from Amazon.com*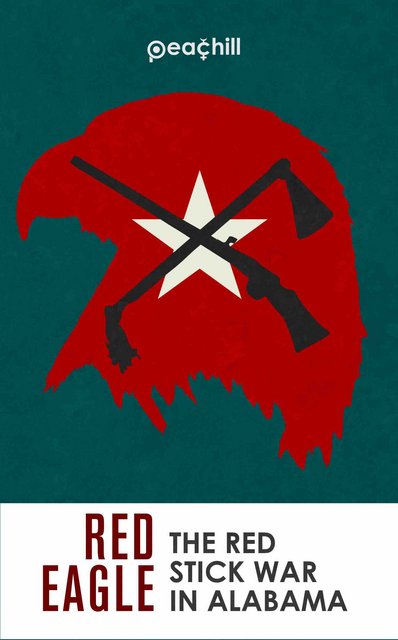 I've always felt like an outsider. Perhaps you've felt the same. The poor kid at the rich school, the one who looks different, the one from somewhere else. No outsider has been through travails as tough, however, as those who are of mixed race. Their stories are powerful, often ugly, but above all, their stories are American.
When we at Peachill put together our first batch of historical fiction novels, RED EAGLE was a must. Half European, half Muscogee Creek, he was uniquely positioned between the Natives and those of European descent. We remember these sides as mortal enemies—white slaughterers, or savage Indians, to be blunt—but there was also a time when they co-existed in peace. Allow me to state the obvious: it wouldn't last. This is how Red Eagle came to be.
My family history is just the same. Dutch and English citizens, shackled by systemic poverty, were caught stealing, and were banished to the New World, but only after being forced to thank their punishers for sparing their lives. Let us pause and acknowledge the cosmic joke that groups of immigrants in America, cast off from their native lands, hated one another. It can be assumed that they saw their own shame reflected in the others, and had a long boat ride to fuel that fury. Once in America, my great-great-(however-many-greats) grandparents formed a European-Native union. The audacity of their love was not well-received. They were met with anger, violence, hatred. They were forced onto the Trail of Tears. Such is the true history of America: a great melting pot that struggles with its own identity. We justify our worst by pointing to our differences, when, in fact, we are all just the same. We still do.
Red Eagle was the son of a wealthy Scottish trader and a Creek princess. He married a Creek woman himself, and when our story picks up, his wife has just given birth to their first child, a boy. Zealots from both the American and Creek sides clamored for war, their agendas fueled by fear, greed, and hate. Red Eagle chose peace. Then, the walls closed in on him. Stumbling on the raped-and-murdered corpse of the woman you love will do that to a man, especially when your infant child lay dead nearby. Hell hath no fury like a man of peace ignited to war.
It wasn't an easy fight. It never is. After defeating the man who killed his family, Red Eagle found himself in the opposite corner from Andrew Jackson. Equal parts military brilliance and blinded by prejudice, Jackson represented the might of an American military desperately trying to prove itself. It is true that America won The Revolutionary War, but the truth is, we never stopped fighting it. Besting Britain would never be enough: we had to prove we were better in every way. The land America represented at the time wasn't just the States, but the vast continent to the west. Endless land meant endless resources. Expansion wasn't a possibility, it was Manife$t De$tiny.
Back then, the government could actually control the media. Every good story has a good villain, and you needed a good story in order to sell your cause to volunteers. It was as simple as this: they look and believe different, therefore, they are evil. America was founded on ideas of freedom and inclusion but early 1800s Alabama did not behave that way in practice. While the native people were naturalistic, grateful for and reverent to their natural environment, the Americans and Europeans alike were focused on expansion, so, naturally, the dust would never settle until only one side had it all.
Red Eagle tells the story of an outsider trapped between his own two halves. It asks us to examine our own past—the good, bad, and nasty—with integrity. If history is taught to prevent us from duplicating the mistakes of our past, we must first reconcile that the history we were taught was only one perspective. In other words, the good guys in your history book were the bad guys in another. We must accept that our previous atrocities do not define our present unless we allow it. We at Peachill do not have the answers, but we honestly want to serve stories that help us create a future that is best not just for me, but for all of us. After all, we are just the same anyway.
Peachill is a revolutionary new story platform that provides authors, and those with a great idea, the opportunity to receive all of the resources, support, and coaching that their story needs to find its voice in the world today. Peachill believes that every untold story has the right to be heard. We believe that there is storytelling talent in every corner of the world. We team with freelancers globally to provide access to the expertise that storytellers crave. We consider ourselves to be a coach along the process, offering our services at a fraction of the price of traditional publishers. We also help authors to navigate the complex and overcrowded
landscape of self-publishing, to provide a true publishing partner. If you have a draft of the story, or the kernel of an idea, or simply want to be involved in a community of storytellers, please visit us at Peachill.com and let us help you find your village.
At Peachill, we're proud of "Red Eagle." It's a story that needs to be told.
Red Eagle Book Trailer from Peachill Publishing on Vimeo.
Buy Red Eagle: The Red Stick War of Alabama  from Amazon.com*
Give­away
Give­away ends: March 21, 2018


Winners must have a valid e-mail address

US Address Only please (for physical copies)

Win­ners will have 24 hours to write back with their address, oth­er­wise an alter­nate win­ner will be picked
--- Please like and follow ManOfLaBook.com ---