William Ernest Henley (23 August, 1849 – 11 July, 1903) was an English editor, critic and poet. Mr. Henley is best remembered for his poem Invictus from 1875.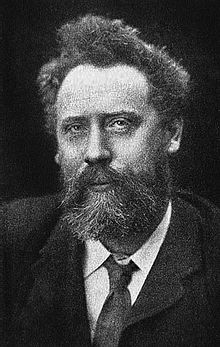 Books by William Ernest Henley*
During Henley's studies at Crypt Grammar School a commission was attempting to revive the school and appointed the academically distinguished T.E. Brown as headmaster. Mr. Brown was headmaster from 1857 to 1863 (a brief tenure at the time) him and Henley began a lifelong friendship. Henley wrote in Brown's obituary "He was singularly kind to me at a moment when I needed kindness even more than I needed encouragement".
Henley suffered from tuberculosis of the bones since the age of 12 which resulted in the amputation of his left leg below the knee.
After the publication of Treasure Island (one of my favorite books), Henley's friend Robert Louis Stevenson wrote to him" I will now make a confession: It was the sight of your maimed strength and masterfulness that begot Long John Silver … the idea of the maimed man, ruling and dreaded by the sound, was entirely taken from you."
Henley wrote the poem Invictus to show his resilience following the amputation of his food.
While in a London school Henley was informed that his right foot was also diseased and needed to be amputated as well. The young man contested the diagnosis with Joseph Lister, a pioneering surgeon at the Royal Infirmary of Edinburgh. Henley spent three years in the hospital, from 1873 to 185, although not completely cured, Henley enjoyed an active life for almost 30 years afterwards.
During his three years at the hospital Henley wrote and published poems which were collected in a book In Hospital.
Henley married Hannah Johnson Boyle on 22 January, 1878. The couple had a daughter Margaret. Unfortunately Margaret Henley was a sickly child and was unable to speak clearly and even called one of their friends "fwendy-wendy". That friend was author J.M. Barrie who used Margaret's nickname for him as a character in his upcoming children's book Peter Pan. Sadly Margaret died at the tender age of 5.
Henley died at the age of 53 in his home. The cause of death was tuberculosis.
While in prison, Nelson Mandela recited the poem Invictus and was said to have been empowered by its message of self-mastery.
In the 2009 feature film, Invictus the poem is referenced several time.
Books by William Ernest Henley
Zohar – Man of la Book
--- Please like and follow ManOfLaBook.com ---