Arti­cle first pub­lished as Book Review: 'March Violets' by Philip Kerr on Blog­crit­ics
About:
March Violets by Philip Kerr is the first in a series of noir novels about Bernie Gunther, an ex-policeman who turned private investigator. March violets refers to Germans who went along with the Nazi violence mindlessly.
256 pages
Publisher: Penguin Books
Language: English
ISBN-10: 0142004146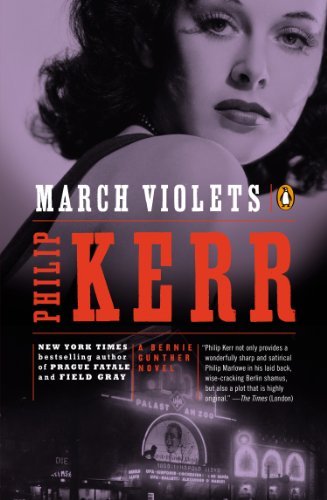 My rating for March Violets – 4
Buy this book in paper or in elec­tronic format
More Rec­om­mended World War II books on Man of la BookStore
Thoughts:
I read a few Bernie Gunther books before this one, but after I read the first one I ran out (meaning inside) to the store (Internet) and browsed (searched) for used copies of the series. Being a single minded Neanderthal, as my beloved wife can attest to, I decided to read March Violets first because… well… it's first.
The novel has a murder/mystery aspect but even more fascinating is the sense of coping with Nazi horrors on a daily base. The sense of the Nazis taking over and destroying souls feels very real in this novel and is an underlying horror which is present on every page. The book's psychological aspect (intended or not) of just how Germans went along numbingly with the Nazi atrocities is fascinating and disturbing.
Gunther is an interesting protagonist, a gray man who uses humor and sarcasm to cope with the endless bureaucracy, overbearing administration, criminal elements (both within and outside the law) and the brutality of the times. Gunther is never the smartest or strongest man in the room, but somehow he always manages to survive.
The writing is very good, but I have a feeling Mr. Kerr tried a bit too hard to make it a noir book and sometimes similes stretch for a few sentences which make the reading laborious. The overuse of similes and metaphors actually takes away from the excellent and rich storyline.
March Violets by Philip Kerr (web­site) is a classic hard-boiled detective story with a fast plot and brutal violence. I'm looking forward to reading the rest of the series which I know will become better.
Synopsis:
Bernard Gunther is a Berlin detective, an ex-cop, who specializes in tracking down missing persons, especially Jews. A wealthy industrialist asks Bernie to track down the murder of his daughter and son-in-law who were killed during a robbery.
The investigation is anything but simple and Bernie is soon thrown into a world of political scandals involving artwork, Goering, Himmler and the upper German class. Before he knows it, Bernie finds himself watching Jessie Ownes make a mockery out of Aryan racial superiority theory, fighting Gestapo agents, shoot outs and as a prisoner in Dachau.
Buy this book in paper or in elec­tronic format
More Rec­om­mended World War II books on Man of la BookStore
Zohar — Man of la Book
Dis­claimer: I bought this book.
*Ama­zon links point to an affil­i­ate account
--- Please like and follow ManOfLaBook.com ---