Yesterday I reviewed Superman: The High-Flying History of America's Most Enduring Hero by Larry Tye, a wonderful book and even a big Superman fan like myself learned a few things. While all of the facts below might not be in the book (many are), I do hope you'll read it and let me know what you thought.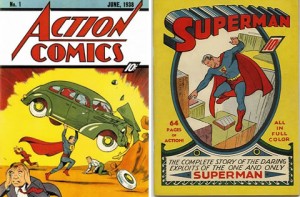 1 ) Superman's original artist,  Joe Shus­ter, stylized the Man of Steel on Douglas Fairbanks, Sr.  Comic movies star Harold Lloyd influenced the look of Clark Kent.
2 ) Superman is the first superhero whose alter ego is a man.
3 ) Lois Lane was modeled after Joanne Carter. Joanne later married  Jerry Siegel – Superman's writer.
4 ) It took Siegel and Shuster six years to find a publisher.
5 ) Superman's earth parents, known today as Jonathan and Martha Kent, had numerous name changes. They were:
 "passing motorists" in Action Comics #1 (1938),
 "Mary Kent" in Superman #1 (1939)
"Eben and Sarah Kent" in The Adventures of Superman (a 1942 novel by George Lowther) and in the Adventures of Superman TV series
"John and Mary Kent" in Superman #53 (1948)
Mr. Kent is given the first name of Jonathan in Adventure Comics #149
Mrs. Kent is give the first name of Martha in Superboy #12 (1951)
6 ) Clark is Mary/Martha's Kent middle name
7 ) Joseph is Clark Kent's middle name. His birth name is Kal-El.
8 ) In 1941 DC Comics sued Fawcett Comics claiming that their best seller comic book, Mr. Marvel, is a copy right infringement. DC won and later bought the rights to Captain Marvel.
9 ) Siegel and Shuster sold the rights to Superman for $130 and over the years sued to get more money.
10) Originally the  famous "S" shield was simply that, the letter S. However, it is now considered to be the El family crest and the Kryptonian symbol for "Hope". Upside down the symbol means "Resurrection".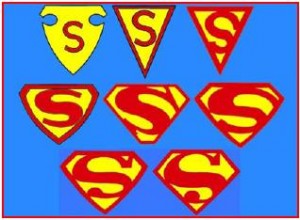 Image from http://logoextremist.blogspot.com/2009/11/superman-logo.html
Zohar – Man of la Book
--- Please like and follow ManOfLaBook.com ---