Tomorrow, 9 June, is the birthday of crime author Patricia Cornwell (website | Facebook). Ms. Cornwell, a Miami, Florida native, created the well known medical examiner Kay Scrapetta.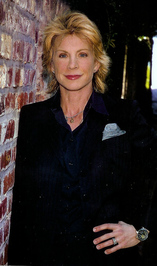 1 ) When Cornwell was nine years old her mother had a nervous breakdown and tried to give her kids to Ruth & Billy Graham – the famed evangelist.
2 ) To the Grahams' credit, they placed the kids in foster care and kept an eye on them throughout the years (now really, doesn't that make you feel good?).
3 ) One of Cronwell's first jobs was a newspaper reporter in Charlotte, NC. She wrote a profile of Ruth Graham which became her first book – a biography and was the first of several non-fiction book written by Cronwell.
4 ) Cronwell's husband is 17 years older than her and became a minister after they were married. The couple moved to Richmond, VA which is where the Scrapetta novels are based in.
Unfortunately the marriage ended in a divorce.
5 ) Cronwell spent six years working at a morgue and studying forensics, all in the hopes of becoming an author.
That's dedication.
6 ) Patricia Cronwell wrote three novels starring charming detective hero between 1984 and 1988. The novels featured a minor character – medical examiner Kay Scrapetta.
7 ) It was Conwell's editor who suggested that she should make Scrapetta the main character and make her fiction gritty, pulled from the headlines type of book.
8 ) The first novel starring Scrapetta was Postmortem. The novel was passed on by seven publishers before being picked up by Scribner's.
9 ) Postmortem won five awards that year and sold hundreds of thousands of copies when coming out in paperback.
10) The Scrapetta novels have been translated into 22 languages.
Zohar – Man of la Book
--- Please like and follow ManOfLaBook.com ---