Samuel Langhorne Clemens, who is more famous under his nom de plume – Mark Twain – was born today in 30 November, 1835 in Florida, Missouri. Twain was an interesting man, a talented writer / author, a keen observer of life and a possessed a biting sense of humor.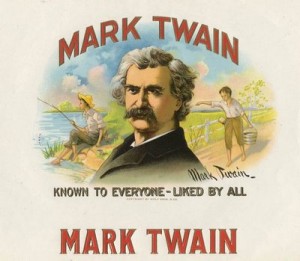 1 )      At age 13 Clemens was already an apprentice printer. Later Clemens worked for  his older brother who established the Hannibal Journal.
2 )      Clemens got his pen name while training to be a river boat captain on the Mississippi, "mark twain" means "two fathoms deep" which is the minimum depth necessary for safe navigation.
3 )      Before adapting Mark Twain as his pen name, Clemens wrote under the name Thomas Jefferson Snodgrass and "Josh".
4 )      Clemens had several jobs: a journalist, steam boat pilot, gold checker and a journalist.
5 )      Clemens was a well respected and loved lecturer and storyteller. He even put on short plays featuring sections of his books during his lectures.
6 )      The Adventures of Tom Sawyer was the first novel written on a typewriter.
7 )      Twain named his dogs "I Know", "You Know" and "Don't Know".
8 )      Clemens loved cats.
9 )      The story that made Mark Twain famous was Celebrated Jumping Frog of Calaveras County.
10)   Twain was born when Halley's Comet was visible. Later in life, diagnosed with heart disease he commented "I came in with Halley's Comet in 1835. It is coming again next year, and I expect to go out with it….The Almighty has said, no doubt, 'Now here are two unaccountable freaks; they came in together, they must go out together.'" (Mark Twain: A Biography by Albert Bigelow Paine). The author died in 21 April, 1910 and Halley's Comet was visible during that month (Twain never got to witness the event).
Zohar – Man of la Book
--- Please like and follow ManOfLaBook.com ---