Yesterday I posted about Ivanhoe by Sir Walter Scott. I truly enjoyed the book and found out some fascinating things about it I'd like to share.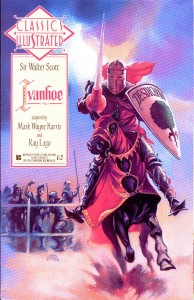 1 ) The novel is credit with the revival of interest in Medieval England when it was published.
2 ) Current perceptions of Robin Hood (loyal, joyful, patriotic and descent) are all thanks to his depiction in Ivanhoe, including him splitting a competitor's arrow and the title of "Locksley". The original placing of Robin Hood in 16th and 17th Century ballads and stories are about two centuries later during the reign of Edward.
3 ) The novel is written in contemporary English, but in the 12th Century nobles spoke a mixture of medieval French and medieval English.
4 ) The name Cedric was first used in Ivanhoe. The name is actually Cerdic but Scott misspelled it and it stuck.
5 ) The first Jewish female college student in the US, Rebecca Graz of Philadelphia, is said to be the inspiration for Rebecca, daughter of Issac of York.
6 ) There are at least 6 well known takeoffs or sequels for Ivanhoe.
7 ) Scott was a conservative at his time, he set his novel at the time of the Magna Carta which he "regarded as rooted in immemorial British custom and precedent".
8 ) Ivanhoe was required reading for US high school students until the end of the 1950s.
9 ) The novel was a departure for Scott who usually wrote about the history of Scotland.
10) Trying to raise money to help the families of executed abolitionist John Brown,  Ralph Waldo Emerson said of him "Walter Scott would have delighted to draw his picture and trace his adventurous career".
Zohar – Man of la Book
--- Please like and follow ManOfLaBook.com ---