Charles Gordone, the first African American to receive the Pulitzer Prize for Drama, was born on this day 12 October 1965 (d: 16 November, 1995).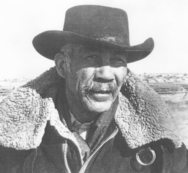 1 ) After serving in the U.S. Air Force, Godrone moved from La to NYC where he waited tables and acted.
2 ) Gordone won an Obie Award in 1953 for his role in Of Mice and Men in an all-black production.
3 ) Gordone co-founded the Vantage Theater in Queens and the Committee for the Employment of Negro Performers.
4 ) Gordone played a valet in The Blacks by Jean Genet from 1961 to 1966. In the production were many African American actors such as h James Earl Jones, Maya Angelou and Cicely Tyson who wanted to change Hollywood. Mr. Gordone points to that play as the role that changed his life.
5 ) Gordone's play No Place to be Somebody won the 1970 Pulitzer prize for Drama. Not only was Gordone the first African American to receive the prize, the play was the first off Broadway play to win it.
6 ) In 1987 Gordone relocated to Taos, New Mexico and, while establishing a fellowishp at the D.H. Lawrence Ranch, he occupied a cabin which D.H. Lawrence himself stayed in.
7 ) Gordone and his wife Kouyomijan were hired at Texas A&M to teach English and theater as well as advance the racial diversity in College Station campus which has been segregated for a century.
8 ) The Gordones started an "American Voices" program in the college. The couple invited poets, dancers, artists and singers to the A&M classrooms as part of the program.
9 ) Texas A&M has established The Charles Gordone Awards in honor or its illustrious teacher.
10) "Legacy of a Seer" was an exhibition displayed at the Texas A&M College of Architecture and consisted of the Gordones' portraits painted by Robert Schiffhauer.
Zohar – Man of la Book
--- Please like and follow ManOfLaBook.com ---