Abe Kōbō (27 March 7, 1924 – 22 January 22, 1993) was a Japanese writer who was also a photographer and playwright.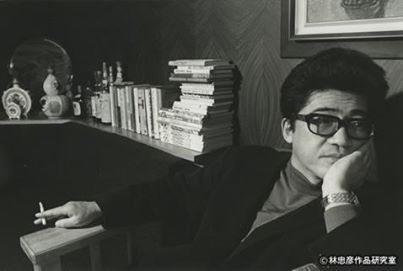 His name is pronounced AH-bay KOH-boh
Following his father's footsteps, Abe went to medical school. As the story goes, he was only allowed to graduate if he promised that he'll never practice medicine.
Some of the authors that were influenced Abe were Dostoyevesky, Kafka, Nietzche and Poe.
Abe's first published piece was the book Poems of an Unknown Poet (Mumei-shishū – 1947) which was self published.
In 1948 Abe published The Road Sign at the End of the Street (Owarishi michi no shirube ni) which maked his transition into a novelist.
Abe won international acclaim in 1962 for his novel The Woman in the Dunes.
The author also started an acting studio in Tokyo, where he trained performers and directed as well.
Abe was awarded the Akutagawa Prize for The Crime of S. Karuma (1951), the Yomiuri Prize for The Woman in the Dunes (1962), and the Tanizaki Prize for Friends(a play – 1967).

Abe was nominated multiple times for the  Pulitzer Prize – but never won one.
Abe collobaroted with famed Japanese director Hiroshi Teshigahara on several film adaptations of his novels.
Zohar – Man of la Book
--- Please like and follow ManOfLaBook.com ---