For two days starting this Friday and ending Saturday night, James Conroy's novel 'Literally Dead' will be available as a free download in Amazon's Kindle stores around the world.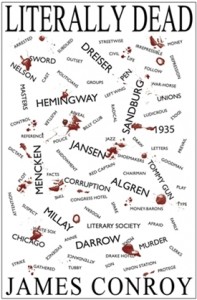 In the midst of the Great Depression, one man must do battle against corruption with nothing but his wits and a host of great literary figures…

Amos Jansen is merely a clerk. He is not a crime fighter, the next great writer, or a man of privilege. He is the humble employee of a Chicago literary society. That is, until he is arrested for murder.

The scapegoat of a perfidious lieutenant, Jansen stands wrongly accused while his idols rally around him. Literary personalities the likes of Ernest Hemingway, Carl Sandburg, Edna St. Vincent Millay, Nelson Algren, and H.L. Mencken, as well as civil liberties war-horse Clarence Darrow, join Amos in his search for the real murderer of both the society's vice-chairman and his own father.

Will the pen prove mightier than the sword? Will mercenary police, politicians and money-barons meet with justice? Or will Jansen fail to solve the mystery and wind up literally dead?
--- Please like and follow ManOfLaBook.com ---