About:
The memoir "Unbelievable Adventures of a WW II German War Bride" by Ingeborg M. Johnston is an important book for Johnston's family. She mentions that her family asked her to write this book because she had some adventures that in today's world are hard to imagine.
And they're right.
226 pages
Publisher: BookSurge Publishing
Language: English
ISBN: 1439268231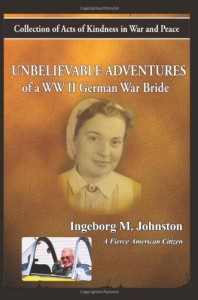 My rating for Unbelievable Adventures – 3
Buy Unbelievable Adventures from Amazon.com*
Thoughts:
Ingeborg M. Johnston must have been standing at the front of the line when G-d passed out genetics. She is smart, beautiful, spunky, gutsy, positive, athletic, with a sunny disposition and a good heart. Born in Germany to a father who opposed the Nazis and later the communists, it is no wonder she had many adventures. Add Ms. Johnston's entrepreneurial skills and, what seems to me, the inherent ability to get what she wants and you have the making of a wonderful and exciting life.
However, many people have adventures; I'm sure most of us can write a book about the exciting times in our lives between the day-to-day doldrums. Heck, I wish my grandparents and great uncles would have written such a book. My great uncle was a partisan in WWII, my grandmother sat in Polish jail, her sisters survived Auschwitz, my grandfather and grandmother romanced in the British Army, and the other grandparents escaped from war-torn Europe and built a new country as teenagers.
Yes, I would love to read about these events and more, but I don't think you would.
Mrs. Johnston wrote a wonderful book that her family would treasure forever, it is not only fascinating but oral history that would be lost if the author didn't put it down on paper. But as interesting as this book was, it lacks in other areas. There really isn't a point to the book, just a bunch of short stories which all have Mrs. Johnston in common.
I got the book because of "WW II" in the title, but it is very little about the war in the book. The book is divided into quick and easy-to-read sections all written in the first person and lacks descriptive narrative which I felt made the book not as gripping. Some sections are poorly written and the book needed the touch of a professional editor, or so it seems.
Don't get me wrong, I enjoyed reading about many of the adventures Mrs. Johnston went through and about her strong belief in random acts of kindness – something I strongly believe in as well. Mrs. Johnston is a strong and inspirational woman and we need more like her.
So tell me, which one of your relatives would you have liked to write a memoir?
Synopsis:
The book tells the true story of the author, who had an incredible life. Mrs. Johnston shares her experiences as a WW II German nurse, a beauty queen, model, pilot, wife, mother, and grandmother. The author marries an American and comes to live in the United States while taking full advantage of what the country has to offer.
Buy Unbelievable Adventures from Amazon.com*
Zohar – Man of la Book
Disclaimer: I got this book for free.
*Ama­zon links point to an affil­i­ate account, the money is usually spent on books
Article first published as Book Review: Unbelievable Adventures of a WW II German War Bride by Ingeborg M. Johnston on Blogcritics.
Related articles
BOOK BLOGGERS – Have you read "Unbelievable Adventures"? If so link up your review below:
--- Please like and follow ManOfLaBook.com ---
Summary
Reviewer
Review Date
Reviewed Item
Unbelievable Adventures of a WW II German War Bride by Ingeborg M. Johnston
Author Rating





Product Name
Unbelievable Adventures of a WW II German War Bride by Ingeborg M. Johnston