About:
The World of the End by Ofir Touché Gafla is a fantasy book translated from Hebrew. This is the author's first book (עולם הסוף) and he won several awards.
368 pages
Publisher: Tor Books
Language: English
ISBN-10: 0765333562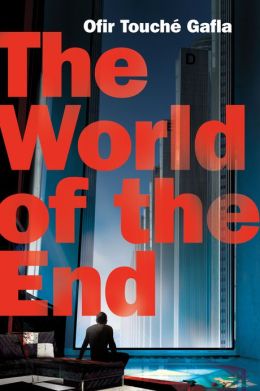 My rat­ing for The World of the End — 5

Buy this book from in paper or elec­tronic format*
 Thoughts:
The World of the End by Ofir Touché Gafla is a creative and well written book, which is touching, thoughtful and interesting. The world, or actually the after world, which the author creates is imaginative and thought provoking.
This strange book, with a large cast, alternates between a strange afterlife world and modern Israel (which, we find, is a place where those in the afterlife get sent to for punishment). The characters in the novel have very strange and unique character flaws which make them interesting and intriguing as well as moving the stories along.
 While tragedies happen all around, this is a strangely romantic book with a fantastic ending. The protagonist of the book is an "epilogist", a new word for me which means that he writes endings, appropriately enough.
This book might be categorized under the fantasy genre, it does not accurately describe the book. Certainly not for everyone, I enjoyed this book very much especially due to the complex and flawed characters. The translation to English is fantastic and keeps all the difficult puns and humor in the original.
 Synopsis:
Ben Mendelssohn wants to be reunited with his belated wife, he will do anything to be with her again and on his birthday he puts a bullet in his head to accomplish the task. When Ben enters the Other World he discovers that finding a person among the millions who occupy the realm is not an easy task.
Searching huge cities where every person that ever died lived, and gardens with family trees which are taken care of by those that were never born is a huge task for the recently deceased Ben, so he hires a private investigator to help him out. While events in the real world and Other World unfold and are somehow related, Ben discovers much about himself, his wife and the human condition.
Buy this book from in paper or elec­tronic format*
Zohar — Man of la Book
Dis­claimer: I got this book for free.
*Ama­zon links point to an affil­i­ate account
--- Please like and follow ManOfLaBook.com ---