The Thousand Autumns of Jacob de Zoet by  David Mitchell  is an exceptional book which can easily be passed as a romantic historical fiction.  The book opens in the last part of the 18th Century in feudal Japan, where the reader is positioned in the middle of a difficult labor of the wife of a Japanese nobleman.  The baby dies in the process, however the midwife, Orito, saves him and gets her wish to study medicine with a Dutch doctor named
496 pages
Publisher: Random House
Language: English
ISBN-10: 1400065453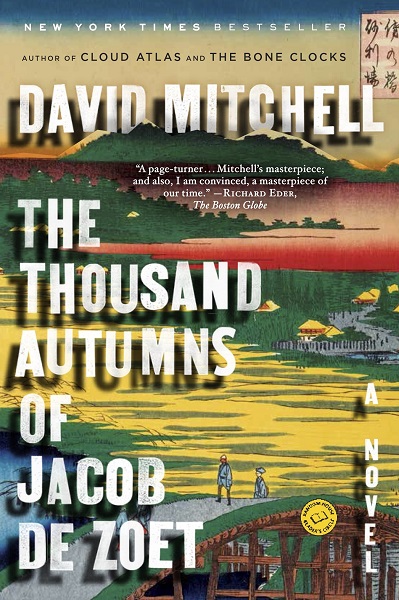 My rating for The Thousand Autumns of Jacob de Zoet
–
4
Buy The Thousand Autumns of Jacob de Zoet from Amazon.com*
More Books by David Mitchell*
We are then introduced to Jacob de Zoet, a Dutch clerk from the Dutch West Indies Company dreaming of making a fortune and coming back home to marry his sweetheart.  Jacob is an honest man, incorruptible, who is sent by the company's new director to straighten out the corrupt books.  Soon Jacob finds himself in Dejima, a small island off of Nagaski where the not-yet-ready-for-foreigners Japanese government performs trade and exchange. 
Dejima
is a universe upon itself filled with corrupt Dutch officials, sailors, Japanese magistrates, interpreters and a few slaves as well.
The naiveté of Jacob causes him to be a small part of a petty corruption fiasco which is then held over his head, leaving him exiled on Dejima.  Jacob's honesty proves to be his blessing and his curse, as he constantly misses signals from his Dutch companions as well as the Japanese business associates, which are comical to the reader but have devastating results for Jacob.
Jacob and Orito meet, and Jacob falls in love with her – only to try and rescue her from an unspeakable evil planned and executed by her step mother and a Japanese priest who sucks the life out of living creatures.  How does a lowly Dutch clerk takes on an evil sadist who makes Dumas' Richelieu seem like the Pope?
That is the genius of this novel which equally contrasts the Dutch and Japanese perspectives while preserving a mystery and allows honor and decorum triumph over corruption and wickedness.
The first part of the novel is wonderful, the story is interesting, the setting fascinating and the prose is fantastic.  Mitchell's writing is fabulous, the language is rich and extravagant and the story flows.  The author's humor shines through the book as he incorporates little snippets of haiku among the narrative.
The second part however is overflowing with bizarre tragedy and the narrative constantly relies on the "meanwhile back at the farm (temple)" jumps in story.  The large cast, which was so eloquently introduced in the first part, seems to be a burden in the latter part.  The character studies so fluently staged are now disconnected across time and ocean.
The Thousand Autumns of Jacob de Zoet
is an epic which is meant to be read slowly and deliberately, the tale is smart and the story is fun.  Even though the book incorporates
shoguns
and
samurais
, most of the account is carried by clerks and translators.  The epic rescue attempt in a sanctuary surrounded by snow capped mountains is no less exciting than the description of diplomatic rituals and the "
arse-licking pilgrimage
" one must make before meeting the shogun.
Zohar — Man of la Book
Dis­claimer: I bought this book.
*Ama­zon links point to an affil­i­ate account
--- Please like and follow ManOfLaBook.com ---