About:
The Music of James Bond by Jon Burlingame is a non-fiction book about the soundtrack of one of the most successful film franchises in the world. Coincidentally, after finishing the chapter about the music of From Russian with Love, I flipped on the TV and the movie was on, I can give a first hand testimony that this book gave me a whole different view of the Bond movies (and I have seen each several times).
304 pages
Publisher: Oxford University Press
Language: English
ISBN-10: 019986330X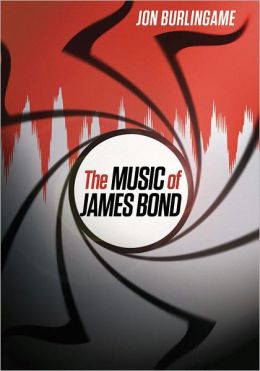 My rating for The Music of James Bond – 4

Thoughts:
The Music of James Bond by Jon Burlingame tells of the real-life dramas which accompanied the sound track to the 007 movies up to Quantum of Solace. Mr. Burlingame takes the reader behind the scenes to closed sessions, private negotiations and confidential conversations.
The author does an excellent job discussing each movie and how the soundtrack got created as well as changed with the times. As a fan of the movies (I've seen each several times), I knew exactly what he was talking about and could hear the music in my head.
My favorite part of the book came at the beginning by learning how the famous "James Bond Theme" came to be and, of course, learn more about the famous John Barry who scored many of the Bond movies whose distinct sound is recognizable almost everywhere.
Special attention was given to the changing technology in music, where big bands were replaced, or complemented, by synthesizers and the sound of the early movies was slowly replaced by disco and modern sounds.
My only wish is that this book would have been an enhanced e-book, this is the exact type of book which would benefit from such format. Imagine being able to watch a particular scene, or listen to a particular track after having read about it and with an understanding of what your are watching and listening to.
As always, the real magic of the book is the behind-the-scenes anecdotes and controversies regarding the soundtracks, ownership and reinvention of the Bond sound by David Arnold. Complemented with interviews of composers and artists, untold stories (Eric Clapton's guitar work for "License to Kill" was shelved, Jimmy Page played on the "Goldfinger" track and more) this book is a must for James Bond books and movie fans and music lovers.
Synopsis:
The book covers the topic of the James Bond movies from the perspective of the musical score. Each movie gets a chapter with a narrative of how the score came to be as well as an outline of the movie (spoiler alert if you haven't seen them) and where each part of the score plays a role.
By this book in paper or electronic format*
More books by Jon Burlingame
Zohar – Man of La Book
Disclaimer: I borrowed this book for free.
*Ama­zon links point to an affil­i­ate account
BOOK BLOGGERS – Have you read The Music of James Bond? If so link up your review below:
--- Please like and follow ManOfLaBook.com ---
Summary
Reviewer
Review Date
Reviewed Item
The Music of James Bond by Jon Burlingame
Author Rating





Product Name
The Music of James Bond by Jon Burlingame