About:
Randy Bachman's Vinyl Tap Stories is a non-fiction book by the famous rocker. Randy Bachman, a musician from Winnipeg who was in the Guess Who, BTO and other bands tells about his career and the people he met.
288 pages
Publisher: Pintail
Language: English
ISBN-10: 0670066591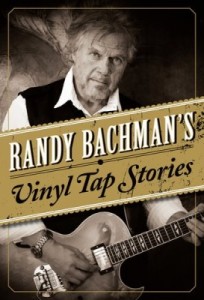 My rating for Randy Bachman's Vinyl Tap Stories – 4
By this book in paper or electronic format*
Thoughts:
Randy Bachman's Vinyl Tap Stories is a short book with many short stories. Mr. Bachman has sat down and wrote down great memories from a great career, reading the book I felt as if he would play a song after each story.
My favorite story is one of the longer ones about Les Paul. Mr. Bachman saw Les Paul play at his hometown in Canada where he watched through the kitchen door since he was too young to enter the premises. Mr. Paul talked a bit with the young guitarist and showed him how he played a song. Fast forward years later when, now established musician Randy Bachman was introduced to Les Paul who actually remembered the-kid-from-the-restaurant and about an encounter even later when they got to play together.
Appropriately enough, but less interesting to me, the longest section in the book is the one where Bachman talks about guitars and goes into details about the sound the structure of them. I am not a musician, never was, never will be, but I found that part interesting because my ears cannot hear those subtle differences.
I did enjoy the book very much and I had an advanced reader's copy (ARC) but I do think the book need to be tighter. I enjoyed the informal style which, I'm sure, works great if you know Mr. Bachman (I don't) or listen to his radio show (never did) but for me, some of it simply didn't work. Many short anecdotes end with sentences similar to "what a great guy" and such, leaving the reader hanging in the air.
Frankly, despite the paragraph above, I wish more celebrities would write such books of personal stories. Mr. Bachman is not only a musician, but a fan and it comes across clearly in the book. I could actually feel him get excited when he talks about meeting people he admired or being invited to play with childhood heroes.
By this book in paper or electronic format*
Zohar – Man of La Book
Disclaimer: I got this book for free.
*Ama­zon links point to an affil­i­ate account
BOOK BLOGGERS – Have you read Randy Bachman's Vinyl Tap Stories? If so link up your review below:
--- Please like and follow ManOfLaBook.com ---