About:
"The Marvelous Land of Oz" by L. Frank Baum is the second story in set in the fictional land of Oz. The book however is not about Dorothy.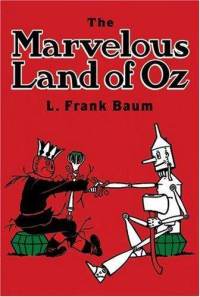 My rating for The Marvelous Land of Oz – 3
Thoughts:
"The Marvelous Land of Oz" by L. Frank Baum takes place after the "Wonderful Wizard of Oz" (book review) ends. The story follows a boy named Tip and, while I didn't feel it was as good as its predecessor, is certain a worthwhile read just to get a glimpse into Baum's imagination.
The writing in this book seemed forced, while I liked the message that the Tin Woodsman (heart) and Scarecrow (brain) need one another to coexist, the main character was strange and the ending was freaky.
Baum introduces some new characters: Jack Pumpkinhead, Mombi the witch among others which are very imaginative. I did find other aspects of the story interesting though, but not what Baum intended. The difference between 2011 and 1904 makes a great discussion with children and adults alike. For example, the women of Oz are happy at the men taking over the household duties because they are only truly happy at finally getting a chance to cook a good meal.
The more I read the book; I sadly realized that in 2011 a book like this has a very slim chance of actually getting published. The political correct crowd will demolish half the book before it gets to the printer and the conservative movement will gladly destroy the other half.
So tell me, have you read any books which won't get published in this day and age?
Synopsis:
Tip is a young boy who lives with a witch named Mombie. Being fed up with the way he is being treated, Tip runs away with a pumpkin man he brought to life which he calls Jack Pumpkinhead. Together the two friends explore the Oz on their way to Emerald City so they can meet its king, the Scarecrow.
Zohar – Man of la Book
Disclaimer: I bought this book.
Related articles
BOOK BLOGGERS – Have you read "The Marvelous Land of Oz"? If so link up your review below:
--- Please like and follow ManOfLaBook.com ---