About:
The Black Count: Glory, Revolution, Betrayal, and the Real Count of Monte Cristo by Tom Reiss is a biography of Alex Dumas, a general in Napoleon's army and father to the author who bears his name.
432 pages
Publisher: Broadway Books
Language: English
ISBN-10: 0307382478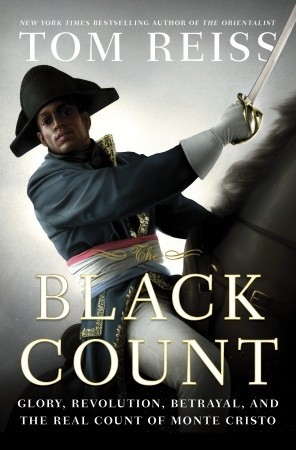 My rat­ing for The Black Count — 4
Buy this book in paper or elec­tor­nic for­mat*
More Books by Tom Reiss
Thoughts:
The Black Count: Glory, Revolution, Betrayal, and the Real Count of Monte Cristo by Tom Reiss is a fascinating book about a fascinating persona and a wonderful persona for a biography. Alex Dumas lived in a chaotic time which was not short on adventure and worldwide changes.
Alex Dumas was a black man, which gives a chance to the author to reflect on the treatment of slaves, flip-flop position of France's government towards blacks and slaves as well as the abolition movement of the time. Napoleon does not receive a gentle treatment from Mr. Reiss as well, as from many other biographers. The future Emperor did not seem to like Alex Dumas despite his great accomplishments and a soldier and a commander.
Mr. Reiss reflects on the stories of the general's son, famed writer Alexandre Dumas, and how he drew from his father's adventures immortalizing him in fiction and non-fiction. The son, however, barely knew his father because he died when he was three or four years old. Much of what Alexandre Dumas wrote about his father was conjured up from stories he remembered as a child, or his own research. Mr. Reiss was privy to much more research, a distance in time and familiarity but I found his comparison of history with Alexandre Dumas' homage to his father fascinating and worthy of both men.
It is clear that the author developed a great admiration towards General Dumas, a bastard son of a nobleman, born to a slave on the island of Saint-Domingue and rising to be a hero of the French Republic, albeit forgotten.
Although some of the book was repetitive, the life of General Dumas could easily have been believed to be made up by his son. This biography was well researched and a fascinating read, not only because of the exciting life of General Dumas, but also due to the turbulent times he lived in and his status as a strong, successful black man in Europe.
Buy this book in paper or elec­tor­nic for­mat*
More Books by Tom Reiss
Zohar — Man of la Book
Dis­claimer: I bor­rowed this book from the local library.
*Ama­zon links point to an affil­i­ate account
--- Please like and follow ManOfLaBook.com ---