I got this book for free as part of the TLC Book Tour promotion.
The publisher has made available one (1) copy of "so much for that" to be given out- enter at the end of the post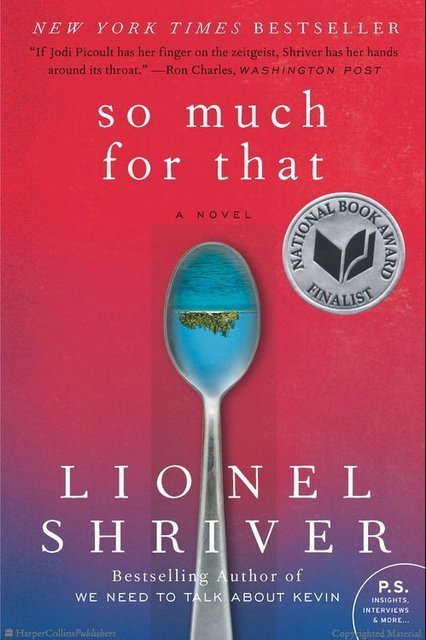 My rating for so much for that – 5
About:
"so much for that" by Lionel Shriver is a fictional book about serious matters. The book deals with the frustration and the unfairness of dealing with the US healthcare industry.
480 pages
Publisher: Harper Perennial
ISBN: 0061458597
Purchase "so much for that" through the ManOfLaBook affiliate account on:
Amazon |Book Depository US | Book Depository UK
Thoughts:
"so much for that" by Lionel Shriver a tough book to read because of the subject matter, however it is well written, interesting and hard to put down.
Shep, the protagonist, has been saving money all his life in order to retire to a small African island named Pemba where the cost of living is minuscule, that is until his wife got cancer and Shep started to see his life savings of more then $800,000 dwindle away to nothing.
And Shep has health insurance.
Shep's best friend, Jackson who has his own sick daughter and is also working for health insurance. Jackson's world is divided between those who take (anyone who is on the government payroll in some form) and those who give (everyone who is not on the government's payroll but pay taxes).
His political tirades were some of the interesting points in the book.
Shep's life is full with "moochers" (those who take according to Jackson), his father, a minister, never saved enough to retire, his sister is self centered and expects him to bail her out by "loaning" her money. Shep's daughter is going to college, his son is in private high-school and Shep's wife got a low paying job because, during a fight, he told her she is not contributing.  The minor characters are interesting but not very realistic – however they do make the point.
This book hit me very personally on several levels.
First, my father, who passed away in December, has cancer for the last two years of his life – which was a real harsh lesson on what "health coverage" really mean. My dad was a small business owner who paid boat loads of money, out of pocket, into the health care system and got very little in return (he didn't get sick often).
Luckily he and my mom moved out of the house they lived in for almost 30 years and into a 55+ complex, which they paid cash – otherwise they would have lost their home. His medication cost $7,000 a month, his insurance paid 50%.
Can you afford a $3,500 monthly bill for one type of medication?
They basically had to show income of less than $1,000 a month in order to survive.
This taught us a painful lesson – don't get sick unless you are very rich or very poor. Even with health insurance you are likely to go bankrupt, lose your personal fortune and everything you worked to acquire your whole life.
Second, living in New Jersey, possibly the most corrupt state in the union where people who own their homes outright are being evicted because the preposterous property taxes – Jackson's diatribes hit a sore spot.
We pay the highest personal taxes in the nation where 50% of them goes to somebody's pocket (corruption tax), 25% are wasted (as per the state's comptroller) and the other 25%, the money used to run the state, is still four times higher than other states.
As you can tell, I truly enjoyed this book. It is very thought provoking and I highly recommend it to book clubs everywhere.
Synopsis:
Shep Knacker has worked hard all his life and pinched every penny to retire in an idyllic third world country where his money could last him forever.  Glynis, Shep's wife, always found some excuse whey "now" is not the right time to go.  Shep had had enough and he announces that he is leaving with or without Glynis.
But Glynis found out she has cancer and Shep puts his plans aside while his bank account starts dropping like a stone.
Purchase "so much for that" through the ManOfLaBook affiliate account on:
Amazon |Book Depository US | Book Depository UK
Giveaway
Rules:

Contest is for one (1) new copy of "so much for that".

There will be ONE (1) WINNER

Must be a US / Canada mailing Address

Ends Thursday March 24, 2011

Winners will be chosen using Random.org

Winners will have 24 hours after my initial contact to write back their mailing address, otherwise alternate winners will be picked
Congratulations: bookquoter@
TLC Book Tour for "so much for that":

Tuesday, March 15th: In the Next Room
Wednesday, March 16th: Book Club Classics!
Thursday, March 17th: Man of La Book
Monday, March 21st: The Brain Lair
Monday, March 21st: Life Is A Patchwork Quilt
Wednesday, March 23rd: Bloggin' 'Bout Books
Thursday, March 24th: Stephanie's Written Word
Friday, March 25th: Colloquium
Monday, March 28th: A Certain Bent Appeal
Tuesday, March 29th: Life in the Thumb
Wednesday, March 30th: Raging Bibliomania
Zohar – Man of la Book
Related articles
BOOK BLOGGERS – Have you read "so much for that"? If so link up your review below
--- Please like and follow ManOfLaBook.com ---