About:
Seduction by M.J. Rose is another novel in the Reincarnationist series. This is the fifth book in the series and deals with past lives as do the other books.
384 pages
Publisher: Atria Books
Language: English
ISBN-10: 1451621507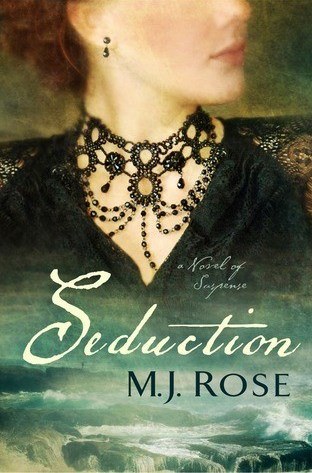 My Rating for Seduction – 4
Buy this book in paper or electronic format*
Thoughts:
Seduction by M.J. Rose (web­site) is a detailed and somewhat haunting novel. This Gothic tales touches on reincarnation (as do the other books in the series), love and loss, pain and family secrets.
Half the book takes place in present time, the other half in the past in which author Victor Hugo is a major part of. While I do enjoy Ms. Rose's work and writing style, the fact that Hugo was in the book was a major draw for me.
While there is some romance in the book, as well as a few paranormal elements (not the normal genre I read) they are sub-stories to the main narrative. As the other books in the series, this one also deals with finding about past lives and how they affect individuals to this day.
While the book can be read as a standalone book, I felt that it was more of a direct sequel to the previous one, The Book of Lost Fragrances. The characters in the series grow with each book and I believe that the reader will enjoy Seduction much more if he/she read the previous novel.
The narrative will appeal to those who liked the previous book, I have very little interest in the paranormal and/or incarnation but I do enjoy a good story. The book is well written and Ms. Rose keeps developing the characters in each novel. At the end of the book the author provides a very informative chapter about Hugo, his experiments with the paranormal and what is history and what is fiction in the narrative.
Synopsis:
Victor Hugo, famous French novelist, has lost his 19 year-old daughter to the sea. In a self imposed exile on the Isle of Jersey, the grieving father has started to participate in hundreds of séances trying to contact his loving daughter. In the process Hugo claimed to have talked with such luminaries as Plato, Galileo, Shakespeare, Dante, Jesus and even Lucifer.
Jac L'Etoile who seems to have no rest from life's dramas arrives on the Isle of Jersey hoping to investigate the island's Celtic roots. Jac's friend, another troubled soul by the name of Theo Gaspard, hopes she'll him discover Hugo's lost conversations with the "Shadow of the Sepulcher".
Buy this book in paper or electronic format*
Historical Fiction Virtual Book Tours for Seduction by M.J. Rose:
Monday, March 25
Review at Luxury Reading
Tuesday, March 26
Review at Peppermint, Ph.D.
Wednesday, March 27
Review at Bibliophilic Book Blog
Thursday, March 28
Interview at A Bookish Libraria
Friday, March 29
Review & Guest Post at vvb32Reads
Guest Post at Oh, for the Hook of a Book!
Monday, April 1
Review at A Bookish Affair
Review & Guest Post at The Lit Bitch
Tuesday, April 2
Guest Post at A Bookish Affair
Wednesday, April 3
Review at Griperang's Bookmarks
Thursday, April 4
Review at The Musings of a Book Junkie
Friday, April 5
Guest Post at The Musings of a Book Junkie
Monday, April 8
Review at Girls Just Reading
Tuesday, April 9
Review & Guest Post at Kinx's Book Nook
Wednesday, April 10
Review at Booklover Book Reviews
Thursday, April 11
Review at Psychotic Book Reviews
Guest Post at Literary Marie
Friday, April 12
Review at West Metro Mommy
Monday, April 15
Review at Layered Pages
Tuesday, April 16
Review at CelticLady's Reviews
Wednesday, April 17
Review at Reflections of a Book Addict
Thursday, April 18
Review at Flashlight Commentary
Guest Post at Reflections of a Book Addict
Friday, April 19
Guest Post at Flashlight Commentary
Monday, April 22
Interview at Oh, for the Hook of a Book!
Tuesday, April 23
Review at Review From Here
Review at Ageless Pages Reviews
Wednesday, April 24
Guest Post at The Maiden's Court
Thursday, April 25
Review at So Many Books, So Little Time
Monday, April 29
Review at A Chick Who Reads
Review at As I Turn the Pages
Tuesday, April 30
Interview at A Chick Who Reads
Wednesday, May 1
Review at Peeking Between the Pages
Thursday, May 2
Review at Unabridged Chick
Guest Post at Peeking Between the Pages
Friday, May 3
Review at Confessions of an Avid Reader
Tuesday, May 7
Review at Sharon's Garden of Book Reviews
Wednesday, May 8
Review at Buried Under Books
Review at Diary of an Eccentric
Thursday, May 9
Review at Amused by Books
Review at Oh, for the Hook of a Book!
Interview at Buried Under Books
Friday, May 10
Review at Savvy Verse & Wit
Monday, May 13
Review at Historical Tapestry & The Adventures of an Intrepid Reader
Tuesday, May 14
Review at Words and Peace
Review at Kimba the Caffeinated Reviewer
Guest Post at Historical Tapestry
Thursday, May 16
Review at From Left to Write
Friday, May 17
Review at A Novel Review
Monday, May 20
Review at Broken Teepee
Tuesday, May 21
Review at Confessions of a Book Hoarder
Guest Post at Broken Teepee
Wednesday, May 22
Review at Bags, Books and Bon Jovi
Guest Post at Confessions of a Book Hoarder
Thursday, May 23
Review at Man of La Boo
Guest Post at Bags, Books and Bon Jovi
Friday, May 24
Review at The Calico Critic
Monday, May 27
Review at Paperback Princess
Tuesday, May 28
Review at To Read or Not to Read
Wednesday, May 29
Review at Cheryl's Book Nook
Guest Post at To Read or Not to Read
Thursday, May 30
Review at Book Nerds
Guest Post at Cheryl's Book Nook
Monday, June 3
Review at A Book Geek
Tuesday, June 4
Review at Tribute Books Mama
Guest Post at My Shelf Confessions
Wednesday, June 5
Review at Bippity Boppity Book
Thursday, June 6
Guest Post at Book Nerds
Friday, June 7
Review at Book Drunkard
Monday, June 10
Review at Jenny Loves to Read
Tuesday, June 11
Review & Interview at Pure Textuality
Wednesday, June 12
Review at From the TBR Pile
Thursday, June 13
Review & Guest Post at Books by the Willow Tree
Friday, June 14
Review at Bibliophilia, Please
Monday, June 17
Review at Mari Reads
Tuesday, June 18
Guest Post at Mari Reads
Wednesday, June 19
Review at Daisy's Book Journal
Thursday, June 20
Guest Post at Daisy's Book Journal
Friday, June 21
Review at Judith Starkston Blog
Review at Just One More Chapter
Monday, June 24
Review at The True Book Addict
Tuesday, June 25
Guest Post at The True Book Addict
Wednesday, June 26
Interview at Judith Starkston Blog
Friday, June 28
Review at A Writer's Life: Working with the Muse
Zohar — Man of la Book
Dis­claimer: I got this book for free from Virtual Fiction Historical Book Tours.
*Ama­zon links point to an affil­i­ate account
--- Please like and follow ManOfLaBook.com ---