Award winning Russian writer Mikhail Sholokhov (24 May, 1905 – 21 February 1984) was known for write and the Russian revolution, Civil War and collectivization.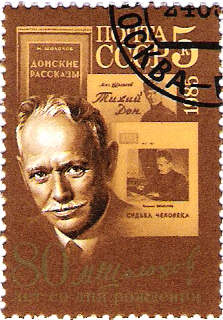 1)      Sholokhov was born in Veshenskaya, known as "land of the Cossacks".
2)      Sholokhov's mother learned how to read late in life for the sole purpose of corresponding with her son.
3)      At the age of 13 Sholokhov fought in the Russian civil war for the Bolshevikk side for several years.
4)      After the war Sholokhov moved to Moscow to work as a journalist. He held several jobs including a stonemason and an accountant to pay the bills and be able to participate in writers' seminars.
5)      In 1923 Sholokhov published his first work, The Test, but returned to Veshenskaya in 1924 to devote  himself to writing.
6)      In 1924 Sholokhov married Maria Petrovna Gromoslavskaia. The couple had two daughters and two sons.
7)      Sholokhov's most famous book, And Quiet Flows the Don which deals with Cossacks before and during World War I and the Russian civil war earned him the Stalin Prize and took 14 years to finish. The work, called socialist realism, was the most read Soviet fiction and won Sholokhov the 1965 Nobel Prize in Literature.
8)      The author also won the Lenin Prize for his novel Virgin Soil Upturned. The work took 28 years to finish and was published in two parts: Seeds of Tomorrow (published 1932) and Harvest on the Don (published 1960).
9)      The "Don" Sholokhov refers to in his books is the Don River.
10)   Sholokhov joined the Communist Party in 1932. By 1937 he was in the Supreme Soviet of the Soviet Union and accompanied Soviet Premier Nikita Khruschev on his visit to the US and Europe.
--- Please like and follow ManOfLaBook.com ---