About:
Leonardo da Vinci by Walter Isaacson is a biography of the famous Italian persona. Mr. Isaacson is an award-winning, notable American biographer.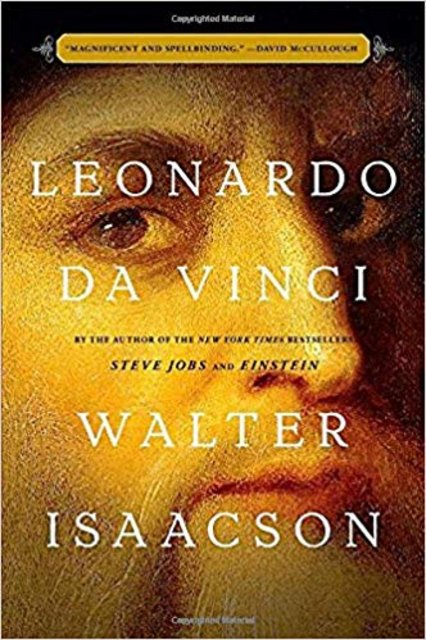 My rating for Leonard da Vinci – 5
Buy Leonard da Vinci from Amazon.com*
 More Books by Wal­ter Isaac­son

Thoughts:
When most of us hear the name Leonardo da Vinci, we think of his paintings the Mona Lisa or the Last Supper. Others might think of The Vitruvian Man or his designs of early tanks and helicopter. Just like any other human beings, Leonardo da Vinci is more than a painter, engineer or weapon smith, and in this biography Walter Isaacson tries to figure out this complex genius.
Mr. Isaacson really humanizes da Vinci, with all the flows of a human, and the genius shared by only a chosen few. For example, even though he was immensely talented, and appreciated as such in his own time, da Vinci was known for not finishing works. This was because of his inquisitive character, where he became fascinated and focused on what he was interested at the time.
A master of details, he analyzed every nerve that controls each facial muscle to draw a smile, he never let the details ruin the big picture for him. After getting a much coveted commission to create a huge statue of a nobleman riding his horse, da Vinci kept investigating the anatomy of horses, created new ways to feed horses and cleaner stables.
But the statue was never complete, and his valuable notes were never published.
The author focuses on some of da Vinci's most exciting projects, Lady with an Ermine, the Mona Lisa, the Portrait of Christ (Salvador Mundi) and the controversy surrounding the painting regarding the authenticity of it. The most interesting assignment that the author talks about was The Civilizing Project of Leonardo da Vinci and Niccoló Machiavelli (yes, that one) in which da Vinci devised hydraulic contraptions to make an unsanitary area in Italy into an advanced canalization system (Machiavelli saw this as a way for more political control).
Unfortunately this project was never built as designed, much like today politics and treasure determined the choice which had an unfortunate, yet predictable end.
The strength of this book is that we come to know Leonardo da Vinci as a person, with all the eccentricities a genius like him has. If you've read Mr. Isaacson's previous biographies, there is a good chance you would like this one.
Buy Leonard da Vinci from Amazon.com*
 More Books by Wal­ter Isaac­son
Zohar — Man of la Book
Dis­claimer: I borrowed this book from the local library.
*Ama­zon links point to an affil­i­ate account
--- Please like and follow ManOfLaBook.com ---
Summary
Reviewer
Review Date
Reviewed Item
Leonardo da Vinci by Walter Isaacson
Author Rating





Product Name
Leonardo da Vinci by Walter Isaacson